Regular price
Sale price
$ 24.99
Unit price
per
Sale
Sold out
11x14 art prints are intended for retail artwork and are produced using the more substantially opaque card stocks available for postcards. Illustrators and graphic designers commonly embrace our 11x14 art printing for reselling artwork at exhibits, art shows, expeditions, comic cons, online marketplaces, and galleries. Our art prints are considered extremely high-quality and archival print products.
Features of 11x14 Art Prints
The maximum quality solution for selling art posters
Three heavyweight card stocks for retail purposes
Gloss, Matte, and Textured card options
11x14 art prints are full bleed and full-color
All artwork is reviewed and inspected before printing
Quality printing specifically for artists

Metallic variants are available for limited editions
You can also order 11" x 11" from this page.
Art Paper Choices For Retail Art
Gloss Card (110# Cover) – Our satin-gloss card stock provides a subtle shine and bright colors.

Matte Card (100# Cover) – A premium choice and artist favorite, the smooth matte card is an elegant alternative to gloss.

Textured Matte (100# Cover) – This distinctive paper represents top-notch fine art reproduction and gives artists a textured choice.

Metallic Card (100# Cover) - Add a single print of your art in metallic gold or pearl silver as a limited edition print.
Do you need thinner paper options? Please visit our 11x14 custom prints page.
---
You Can Print More Than One Art File
For custom 11x14 art prints, you can upload up to five different images and split them any way you like. Be sure to provide any details we may need in the messages area. For instance, you can select the quantity of "100," upload five files and ask us to print twenty of each file. 
Turnaround Times Are Fast
10 to 250 11x14 prints = 1 day
300 to 1000 = 2 days
1250+ = 3 days
Turnaround does not begin until the artwork is sent to production, which may take 2-4 business hours after the order is placed.
Digital Proofs Can Be Helpful
If a digital PDF proof is preferred, please let us know by selecting the option for $5. We typically send PDF digital proofs within four to six business hours. Art files are strictly observed by a staff designer who will search for any issues involving bleed, resolution, and size. Customer service may email a visualization demonstrating those concerns if problems arise that we cannot quickly fix. We aim to ensure you are thrilled with the final 11x14 art prints.
Digital proofs increase turnaround by one extra day. 
Sending 11x14 Art To Us is Easy.

Art can be uploaded from this page or sent to us later. If you experience technical difficulties while uploading artwork, please email files to art@printkeg.com with the order number as the subject. For larger files, please try to use any third-party file storage company (Google Drive, Box, Dropbox, etc.). Sometimes, 11x14 artwork can be a little too large in file size, so don't panic if you cannot upload it on this page.
How To Set Up Artwork For 11x14 Printing
If the below recommendations seem Latin to you, don't let them discourage you from ordering. Our experts will walk you through the entire process if there are any quality concerns regarding your art file. Since we focus on retail printing for artists, we encourage you to submit the best files possible.
Add an extra quarter-inch to your file size. Try to size your file with 11.25" x 14.25" dimensions (3375px x 4275px). This additional space is called "the bleed area" and provides edge-to-edge 11" x 14" prints. Concentrate on protecting important content by keeping those items at least 0.25 inches away from all edges.
When starting a digital design, scanning a physical print, or photographing a painting, ensure your final file will be 300dpi. 300dpi is the lowest setting considered high-quality printing in our industry. Many applications may export your art as a low-grade 72dpi or mid-quality 132dpi.
We favor PDF or JPG file formats. Our graphic professionals also accept other file types like PNG, EPS, and TIF.
Try composing or reviewing your digital art in CMYK color mode. We convert most smaller prints to CMYK before printing begins. 11x14 prints on watercolor paper and photo paper are exceptions to this policy. Please consider ordering a PDF proof if this is your first time printing with our company.
Downloadable Templates Are Useful
Below, a downloadable PDF 11x14 print template is available for easy visualization of bleed and trim areas using any Adobe software. The template is 11.25" x 14.25" in size. You may submit art to us in portrait or landscape format.
11x14 Print Reviews Are Positive
😄 "Shipping was speedy, and the prints turned out wonderful! Color matching is often an issue I face, but the color came out almost exactly as it looks on the screen (without doing a test print, even), so I'm impressed and pleased." - Melissa S.
😊 "Final product of the prints is fantastic, and your pricing is very affordable. I was worried my prints wouldn't arrive in time, but they got here very quickly (which put my mind at ease). Great experience with you all, I'll definitely be a returning customer." - Evan G.
😄 "The prints came out gorgeous with the textured paper. I love them!" - Amber
How We Ship 11x14 Prints Safely
We shrink-wrap 11x14 art prints in stacks, then bubble wrap them, and ship them flat in durable boxes. We may also add chipboard to stacks of prints to prevent damaged corners from occurring. Additionally, we do not include invoices inside packages, but you can print that documentation from the Printkeg control panel.
---
Other Items Like 11x14 Art Prints
Thinner Paper Options for 11x14 
If you favor thinner papers and lower prices, 11x14 Custom Printing located in the "Flyers" area is where you may want to try. Many artists love the savings of lighter card stocks since they are still opaque.
11x14 Watercolor Art Prints
Artists love our 11x14 prints on watercolor paper. The "Textured Card (100# Cover") stock from this page is a way to emulate the watercolor paper look, but we also offer the real thing. Both are considered archival solutions.
---
What other sizes will 11x14 art also fit?
If you are hoping to print additional sizes using your 11" x 14" artwork, consider these counterparts:
3" x 4" (90% compatible)
4" x 5" art card (100% fit, order from our 4" x 6" page)
5" x 7" card (80% and easy to work with)
8" x 10" print (90%, usually paired with 11" x 14")
8.5" x 11" print (95%, commonly paired with 11" x 14")
12" x 16" poster (90%, easy to refit, order from 12" x 18" page)
18" x 24" poster (90%, but watch that resolution)
24" x 30" large print (100% but watch that resolution)
It is not unmanageable to resize 11" x 14" art to fit other sizes, but the process may require cropping. This is just a general list to provide you with options. In the end, you should order the print size you prefer most. Our in-house artists are here to make sure your prints look spectacular.
---
Pro Tips for Custom 11x14 Prints
Print Tip #1 - Adapt Your Size If Necessary
Many artists prefer 11x14 since that size is one of the most recognizable accepted small poster dimensions. If your art does not fit the 11x14 ratio since it is more elongated, we may suggest switching to 11x17. The final decision is up to you. This modification helps us ensure the physical prints adequately portray your digital artwork.
Print Tip #2 - Watch That Signature!
Our team may email you if there is a signature close to the edges of your art, and we can't save it during the trimming stages of production. Adding borders to art is an uncomplicated way to preserve an artist's signature. To avoid delays, you can preemptively let us know if we can add borders (this is a free service) in the instructions area.
Print Tip #3 - CMYK Rules The Print Universe
The most common color issue we see is RGB colors muted once we convert to CMYK. To visualize possible shifts, order a PDF digital proof. The sample PDFs we send are not 100% accurate, but they will display massive color shifts. The best way to see the final print colors is by making a small order before making a more considerable investment.
View full details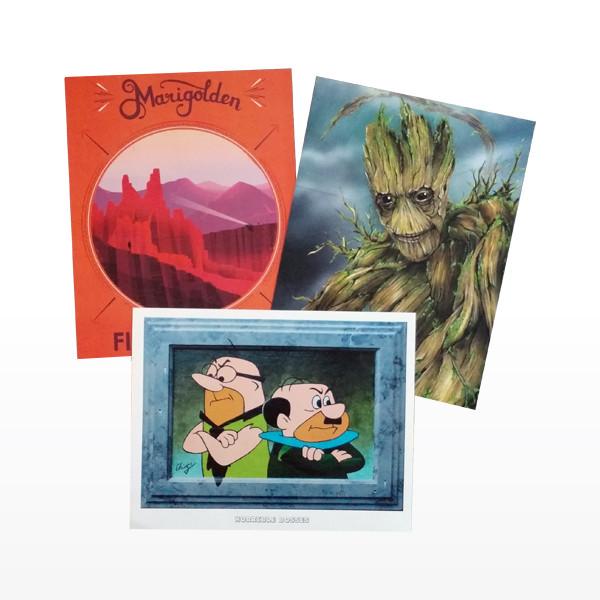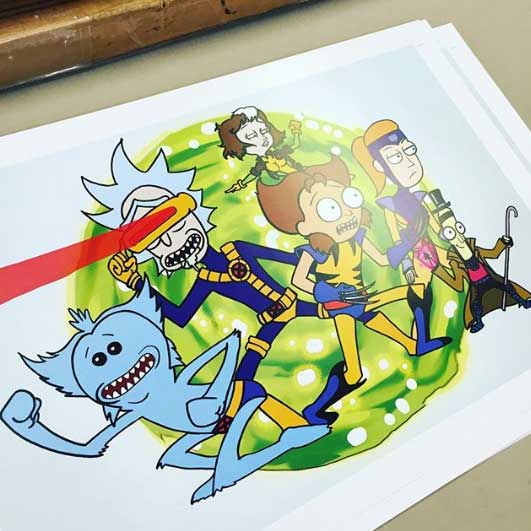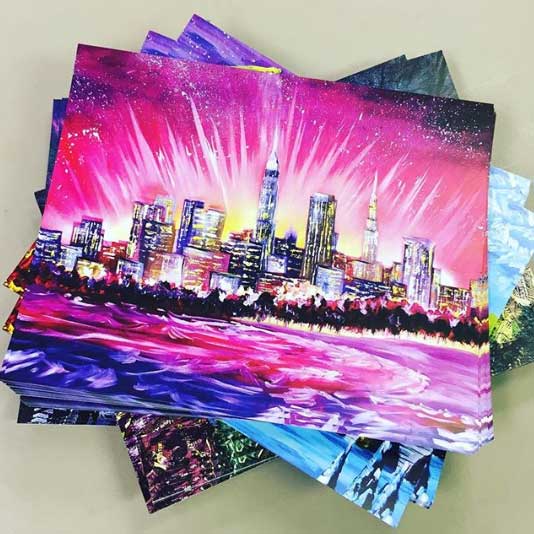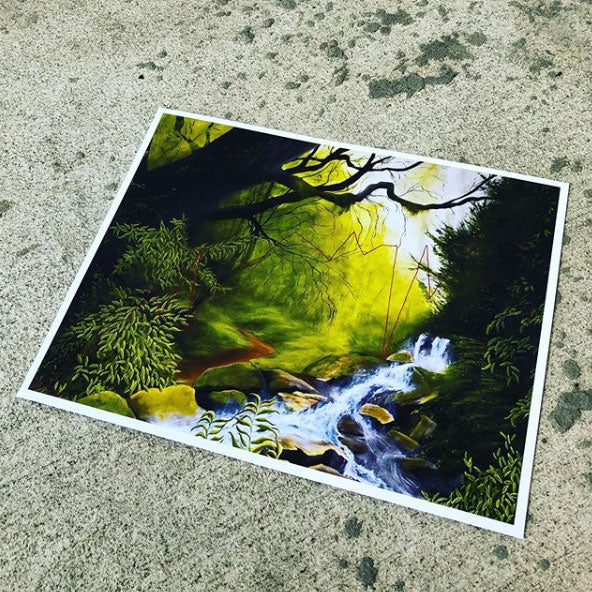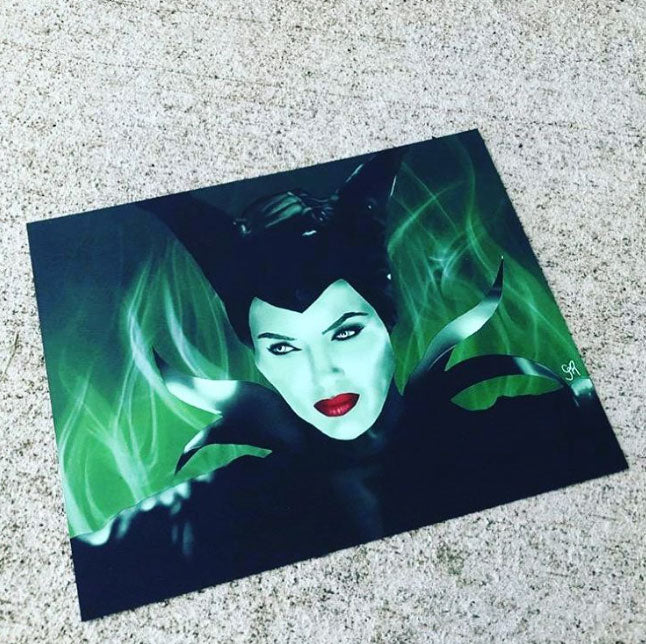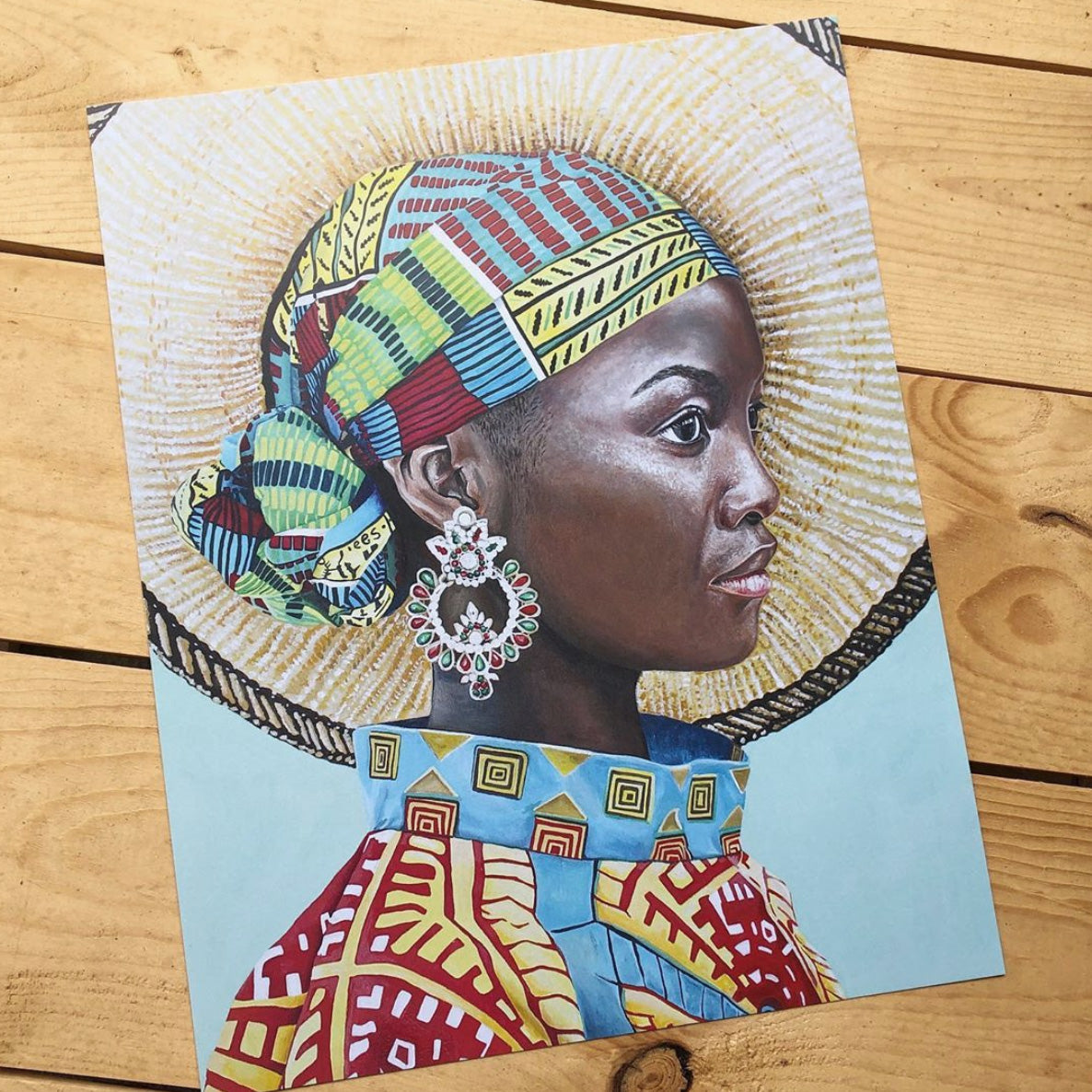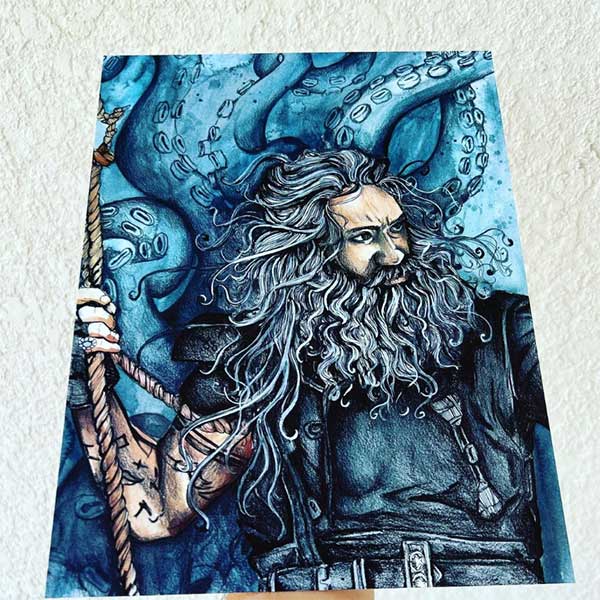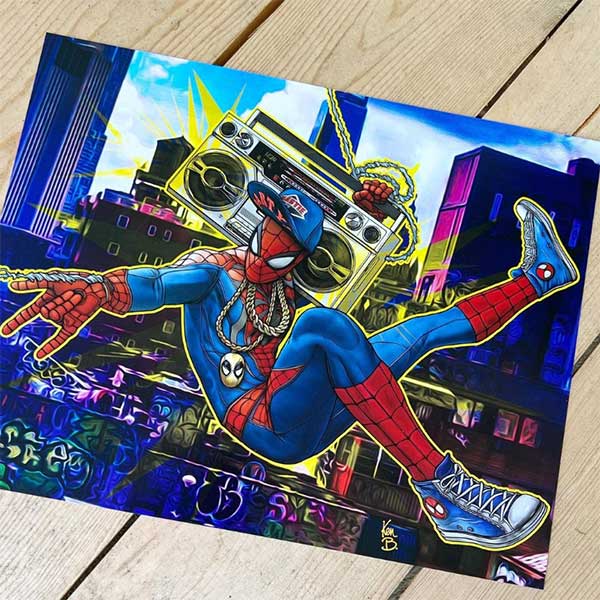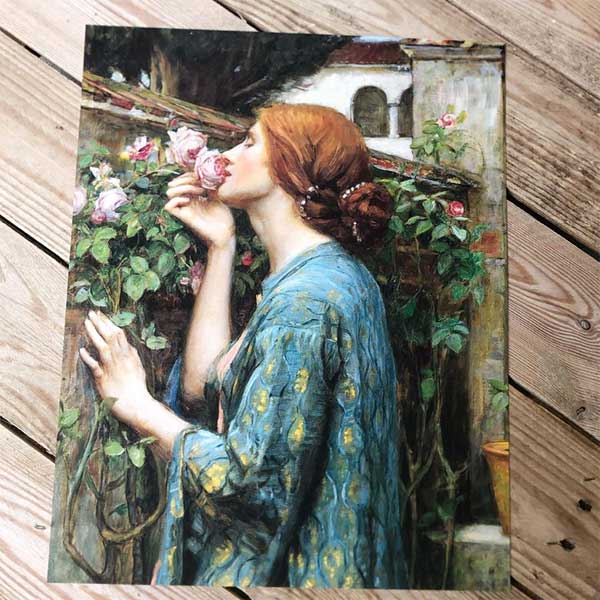 Three Archival Papers
Gloss Card

Printing your art on gloss art cardstock grants gorgeous colors and a satin shine perfect for almost any project. This paper is perfect for printing digital fan art.

Matte Card

Many artists prefer our opaque, uncoated, and warm matte art paper. Colors are intentionally a little more subdued for an elegant feel.

Textured Card

Textured paper promotes a watercolor-like paper texture to capture the authenticity of physical art. Each print carries imperfections for a unique customer experience
Add a Limited-Edition Variant Print!
Gold or Silver

Metallic cardstocks are the rage. Choose Metallic Gold or Pearl Silver. These media selections are easy ways to offer limited-edition prints of your fan art.

Unpredictably Stunning

The gold is in your face, and the pearl silver is subtle since the paper is ivory pearlescent. The end results are stunning yet intentionally unpredictable.

Limited Editions

We added metallic variants to allow fan artists to add limited edition prints to their arsenal in the same way comic book companies offer alternative covers.
Service Descriptions
Digital Proof

A Printkeg artist will prepare your artwork for printing and send you a visual in PDF format via email. This usually takes place within a few business hours. The image we will email you showcases trim location and CMYK colors in a limited fashion.

Make Graphic Work

This $9 option informs our staff to move forward with quick fixes and tackle any possible obstacles. Benefits may include reviewing file dimensions, tackling border issues, and reworking challenging "bleed" areas. There is one goal in mind: to ensure perfect Art Prints.

Edit My Design

This option is inexpensive for hiring us to modify your image file. Our designers edit or place elements into your file, like text, images, etc. The most common use of this service is changing event dates, removing signatures, and swapping photos.

Create My Art

We hire a trusted graphic designer with whom we've worked closely to help you create a new design from scratch. Most communication is via email. Most designs are finished in only a few business days.

Rush Turnaround

Rush Turnaround speeds up your order time by one day. That could mean same-day printing. You need your prints urgently, so we will try to make it happen. We sometimes expedite the shipping if we cannot honor same-day printing.

Free Art Inspections

A human artist reviews every single file before printing starts. If we notice any problems, a Printkeg representative will contact you via email with options how to move forward.
Why Should You Print With Us?
Guaranteed Happiness

Our primary goal is to make sure you are happy with your prints, The Printkeg Promise. This is our guarantee and commitment to serving artists across the nation. It doesn't help anyone if you purchase retail art you can't actually sell. We are here to ensure your success.

Dedicated to Artists

In our "About Us" area, you can view incredible photographs of the most recent Fine Arts Printing projects we've worked on. We geared our entire atmosphere, including the workforce and production facility, to serve retail artists first and foremost.

Fast Production Times

We contribute some of the fastest turnaround times for Art Prints in the Fine Arts Printing industry. You'll be impressed with our fast production times, rush turnaround options, and available expedited shipping methods.