Regular price
Sale price
$ 88.99
Unit price
per
Sale
Sold out
With Akuafoil, you can transform a wide range of CMYK colors into multi-colored foils. This effect gives your stickers a metallic appearance to part or all of your artwork. Akuafoil uses a unique processed foil system that is affordable and delivers prints that stand out from the crowd.
For an Akuafoil job, you must include an Akuafoil mask file along with your CMYK file. The mask file indicates where the Akuafoil will be applied. Use 100%K where you want us to apply Akuafoil and white where the Akuafoil is not applied. If you do not provide a mask file, we will apply Akuafoil to the entire print.
Features of Metallic Stickers with Akuafoil
Enjoy multiple colors in foil on the same design
UV coating is added to the stickers
Apply Akuafoil to part or all of your image
We inspect art and mask files
The below image showcases the differences between the CMYK colors and Akuafoil areas.
How to Apply Akuafoil to Designated Areas
As shown above, the file on the left is the normal CMYK print file. If you only want the logo to be Akuafoil, then your Akuafoil mask file should look like the file on the right. The white indicates no Akuafoil and the black 100%K indicates where the Akuafoil will be applied. When uploading, please remember to upload separate files.
How to Make Areas Appear Silver
If you would like to add plain silver Akuafoil to your stickers, make sure to have at least 15%K in your normal print file area. The right side shows how the mask file would need to be set up. 
Special Notes About Akuafoil
Make sure your mask and CMYK print files are aligned. They should match exactly in size and position.
Akuafoil works best on lighter colors. The darker the CMYK color, the less vibrant the metallic effect.
Do not use very thin or small text and artwork with Akuafoil. Use San Serif fonts above 12 points for best results.
If you have Akuafoil applied to a white area, it will have a plain silver Akuafoil look.
Preferred Art Specs for Stickers
The resolution of your art file should be 300dpi. This is the minimum for high-quality printing. 
We need a bleed area to print edge-to-edge. For instance, if you order a 4x6 postcard, the file should be 4.25" x 6.25" in size. All important items should be within a 3.75" x 5.75" area.
If you plan to add Akuafoil to designated areas of your art, you must provide a mask file. We will not create it for you. Mask files should be vectored.
Turnaround Time 
Orders take 3-5 business days to complete. This time period includes art setup, but not proofing or shipping. 
More Information about Akuafoil
Akuafoil provides the same elegant foil finish as cold foil printing. Yet, Akuafoil employs a different printing process than traditional cold foil printing. With Akuafoil, a layer of silver ink is applied under standard colors, resulting in glimmering metallic inflections.
Setting up an Akuafoil file is slightly different than setting up a standard print file. Here are some requirements you will need to keep in mind:
Your mask file should use white to indicate no foil and black to determine where you would like your foil finish to appear.
Your mask and CMYK print files will need to align perfectly to deliver the best possible results.
Akuafoil looks best in lighter colors. The darker your CMYK color is, the less metallic the Akuafoil will appear.
You should avoid tiny or thin text as well as small artwork when using spot Akuafoil. Sans Serif fonts 12 points and higher work best.
View full details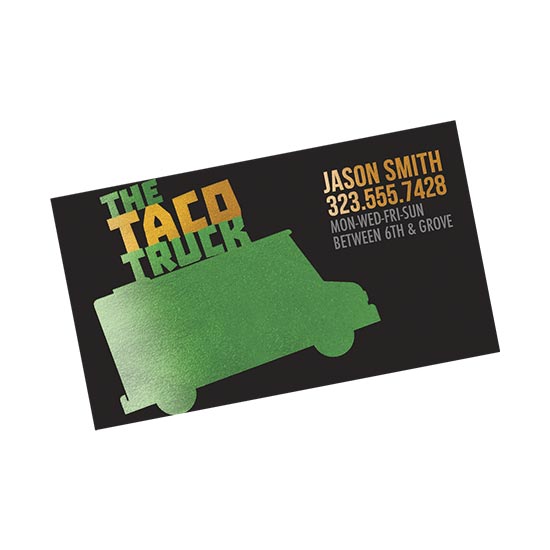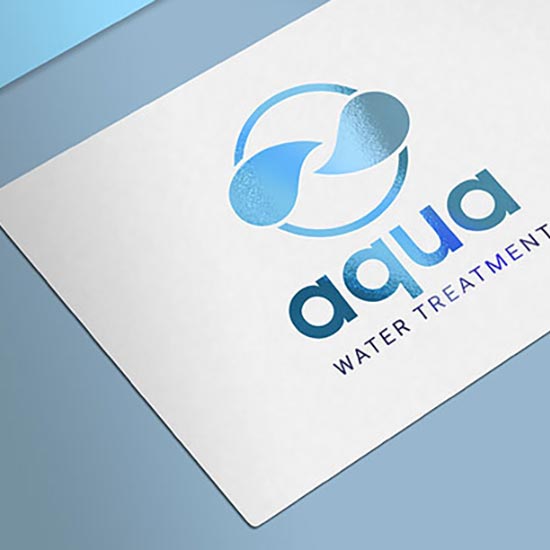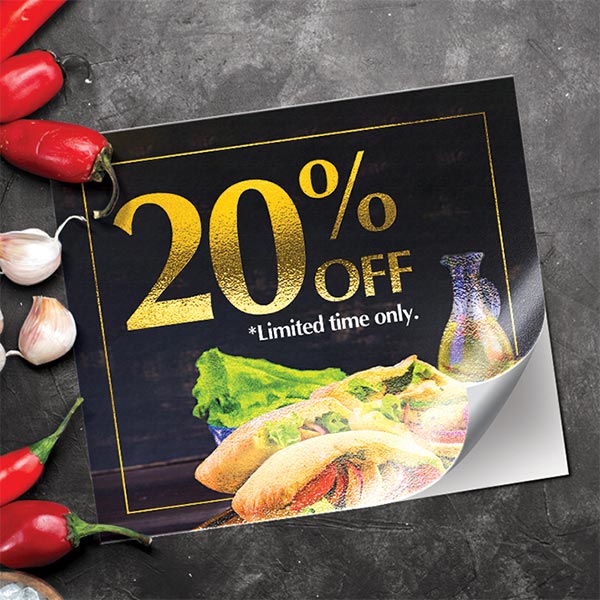 Service Descriptions
Digital Proof

A Printkeg artist will prepare your artwork for printing and send you a visual in PDF format via email. This usually takes place within a few business hours. The image we will email you showcases trim location and CMYK colors in a limited fashion.

Make Graphic Work

This $9 option informs our staff to move forward with quick fixes and tackle any possible obstacles. Benefits may include reviewing file dimensions, tackling border issues, and reworking challenging "bleed" areas. There is one goal in mind: to ensure perfect Art Prints.

Edit My Design

This option is inexpensive for hiring us to modify your image file. Our designers edit or place elements into your file, like text, images, etc. The most common use of this service is changing event dates, removing signatures, and swapping photos.

Create My Art

We hire a trusted graphic designer with whom we've worked closely to help you create a new design from scratch. Most communication is via email. Most designs are finished in only a few business days.

Rush Turnaround

Rush Turnaround speeds up your order time by one day. That could mean same-day printing. You need your prints urgently, so we will try to make it happen. We sometimes expedite the shipping if we cannot honor same-day printing.

Free Art Inspections

A human artist reviews every single file before printing starts. If we notice any problems, a Printkeg representative will contact you via email with options how to move forward.
Why Should You Print With Us?
Guaranteed Happiness

Our primary goal is to make sure you are happy with your prints, The Printkeg Promise. This is our guarantee and commitment to serving artists across the nation. It doesn't help anyone if you purchase retail art you can't actually sell. We are here to ensure your success.

Dedicated to Artists

In our "About Us" area, you can view incredible photographs of the most recent Fine Arts Printing projects we've worked on. We geared our entire atmosphere, including the workforce and production facility, to serve retail artists first and foremost.

Fast Production Times

We contribute some of the fastest turnaround times for Art Prints in the Fine Arts Printing industry. You'll be impressed with our fast production times, rush turnaround options, and available expedited shipping methods.