Regular price
Sale price
$ 129.99
Unit price
per
Sale
Sold out
Circle-shaped stickers and decals make great badges, labels, and tags. For indoor or outdoor applications, our spectacular sticky spots have a ton of marketing potential. We've seen customers print everything from logos to big robot heads to window decals. The color vibrancy and quality of our weather-resistant decal material will enhance any brand's recognition. Let's dot the world one circle sticker at a time.
Circle Sticker Features
Full color, high-quality vinyl
We check all artwork for quality purposes 
Circle stickers and decals are weather resistant
Intended for indoor and outdoor use
Turnaround (5 Business Days)
Custom circle stickers and decals require a 5 day business day turnaround time. If you order other print items with shorter turnaround times, they will ship with the stickers instead. To avoid this, you can split up the order (thus paying separate shipping).
Digital Proofs
When printing circular stickers, we only send digital proofs via email when we are unclear of the intended outcome. Feel free to request a PDF digital proof if critical - we don't mind at all. However, we double-check all artwork before printing to help ensure your 100% satisfaction.
Reviews
"You all are the absolute best!!! Our orders all look fabulous and thank you so much for getting them to our destination on time. Perfect! Love the glossy stickers, very professional looking!"
- D. Divers
Shipping Stickers and Decals
For circular stickers and decals, we usually ship via UPS or USPS. If stickers are included with other print types (such as posters, flyers, etc.), they will certainly ship with UPS. In the end, you have control over which carrier we use. 
---
Custom Circle Sticker FAQ
When will I receive my round stickers?
Circle or round stickers take 3-5 days before shipping. Add that to the shipping transit time, which can vary significantly based on service. Generally, most sticker orders take about five days on average.
What other circle sticker sizes do you offer?
Our circular stickers and decals are available in almost any size. We offer 3" x 3" up to 7" x 7" on our website, but we can custom quote almost anything.
What substance are circle stickers made?
We create our stickers with shine-free and long-lasting vinyl. You can write on decals with a permanent marker.
How should I design my circle stickers?
Try using software like Adobe Photoshop, Adobe Illustrator, Gimp, Microsoft Word, or maybe CorelDRAW. You can also use online services such as Canva.com. If you need a designer, we are happy to help for a nominal fee.
What other sticker shapes do you offer?
The world is your oyster. We can produce stickers shaped as rectangles, squares, leaves, ovals, squares, and die-cut. If you do not see the options you require, don't hesitate to contact our customer service for a custom sticker quote.
---
View full details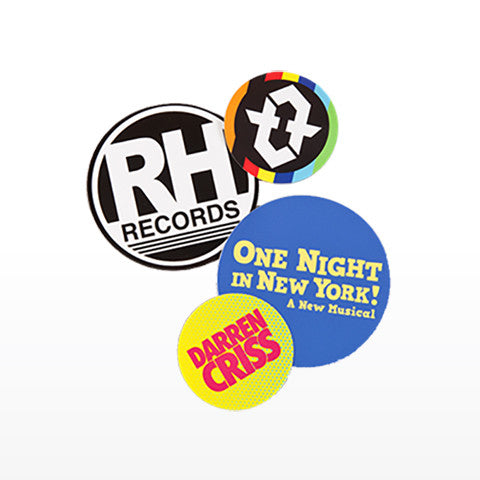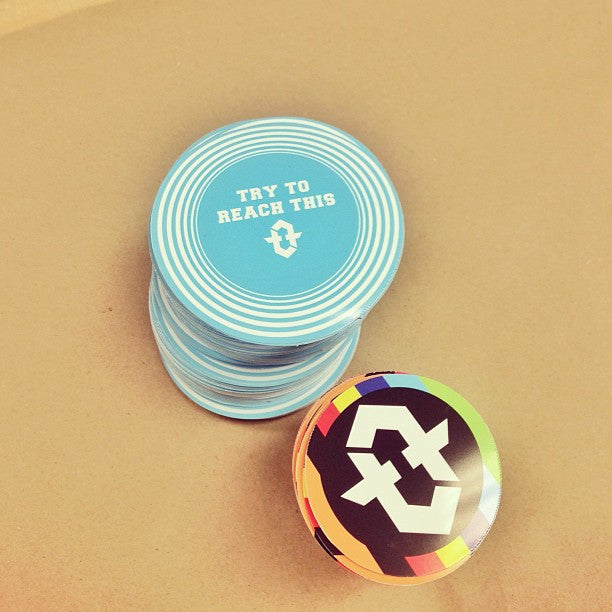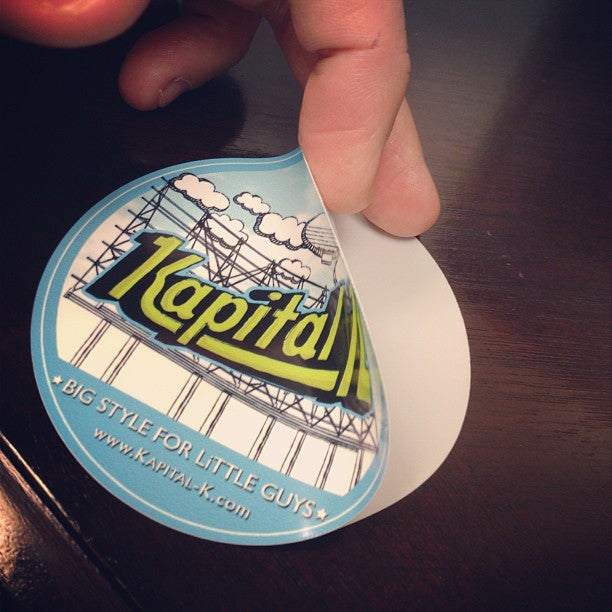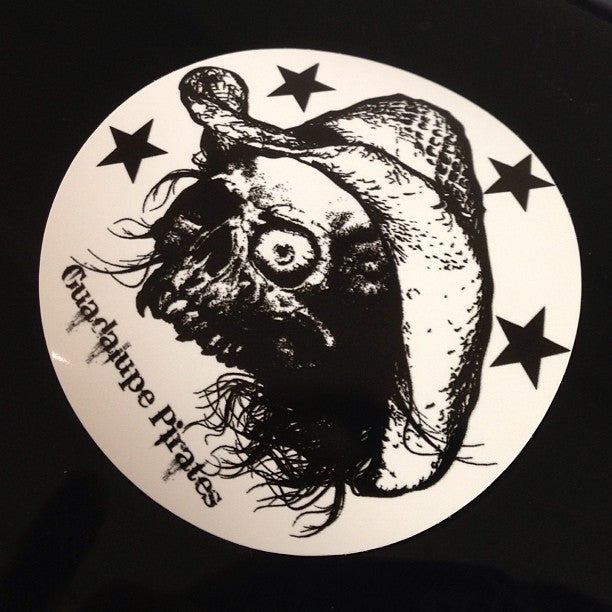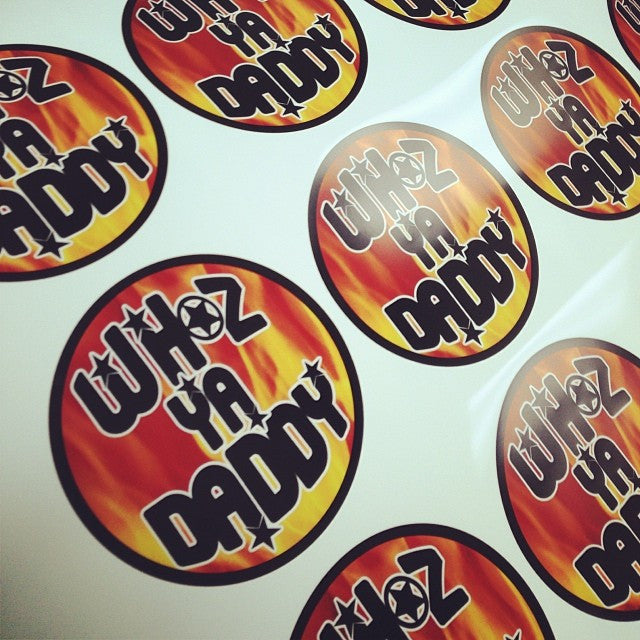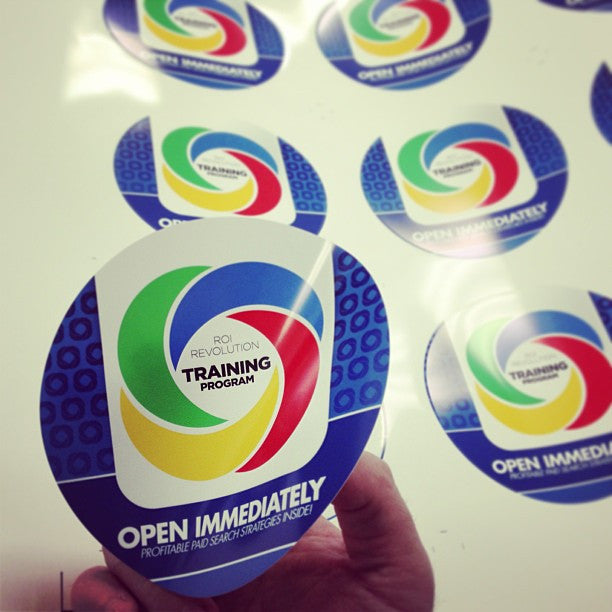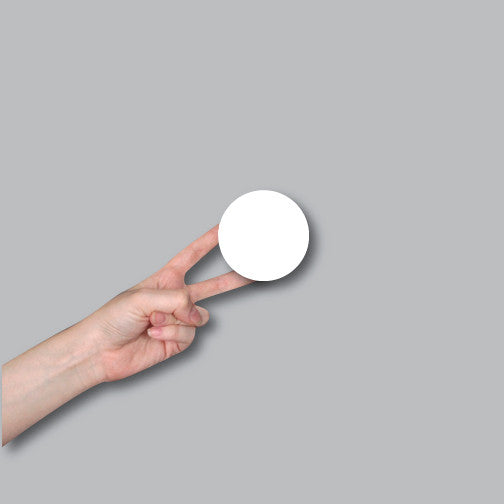 Service Descriptions
Digital Proof

A Printkeg artist will prepare your artwork for printing and send you a visual in PDF format via email. This usually takes place within a few business hours. The image we will email you showcases trim location and CMYK colors in a limited fashion.

Make Graphic Work

This $9 option informs our staff to move forward with quick fixes and tackle any possible obstacles. Benefits may include reviewing file dimensions, tackling border issues, and reworking challenging "bleed" areas. There is one goal in mind: to ensure perfect Art Prints.

Edit My Design

This option is inexpensive for hiring us to modify your image file. Our designers edit or place elements into your file, like text, images, etc. The most common use of this service is changing event dates, removing signatures, and swapping photos.

Create My Art

We hire a trusted graphic designer with whom we've worked closely to help you create a new design from scratch. Most communication is via email. Most designs are finished in only a few business days.

Rush Turnaround

Rush Turnaround speeds up your order time by one day. That could mean same-day printing. You need your prints urgently, so we will try to make it happen. We sometimes expedite the shipping if we cannot honor same-day printing.

Free Art Inspections

A human artist reviews every single file before printing starts. If we notice any problems, a Printkeg representative will contact you via email with options how to move forward.
Why Should You Print With Us?
Guaranteed Happiness

Our primary goal is to make sure you are happy with your prints, The Printkeg Promise. This is our guarantee and commitment to serving artists across the nation. It doesn't help anyone if you purchase retail art you can't actually sell. We are here to ensure your success.

Dedicated to Artists

In our "About Us" area, you can view incredible photographs of the most recent Fine Arts Printing projects we've worked on. We geared our entire atmosphere, including the workforce and production facility, to serve retail artists first and foremost.

Fast Production Times

We contribute some of the fastest turnaround times for Art Prints in the Fine Arts Printing industry. You'll be impressed with our fast production times, rush turnaround options, and available expedited shipping methods.