Regular price
Sale price
$ 130.99
Unit price
per
Sale
Sold out
Die-cut stickers and decals are top of the food chain in the adhesive kingdom. Since each die-cut project is customized, our staff members carefully monitor every aspect of the process. Your design is precisely cut into individual weather-resistant vinyl stickers of almost any shape and size. The end result is a crisp, color-vibrant, quality sticker collection you or your business can be absolutely proud of. There is no better sticky solution for capturing the attention of an audience while enhancing your brand.
To order 500 custom die-cut stickers, simply add two orders of 250 to your cart. 
Die Cut Sticker Features
Printed on multi-purpose outdoor glossy vinyl
Full color and full bleed!
We check your art for quality purposes
Need a different size? Contact us.
Reasonable Turnaround Times (5 Business Days)
All custom stickers and decals require a 5 day business day turnaround time. Other print items included with sticker orders with shorter turnaround times will ship with the stickers instead. To avoid this, you can split up the order (thus paying separate shipping).
Art Specifications for Printing Die-Cut Stickers and Decals
Printing die-cut stickers is easier than ever since we handle the contour cuts and setup process. Go ahead and read the below specifications, but if they don't make much sense to you, just upload your file and let us worry about the rest. If we require your contribution, we will contact you via email.
It would be nice if you kept valuable components, like signatures and text, at least 0.125 inches away from all four edges. If you stuff that information right on the edges, we may ask to add borders.
Review quality settings and make sure you operate in a 300dpi space. Unfortunately, many design applications default to a web-quality 72dpi (Photoshop) or a modest-quality 132dpi (Procreate). Increasing the resolution settings to 300dpi or higher before beginning is essential for quality.
Please submit PDF, PNG, or JPG files for stickers. You can also provide a secondary file for control over cutting and trimming, but it is unnecessary.
We convert all sticker and decal artwork to CMYK. Many designers accidentally work in RGB, but this color mode is primarily for digital media. The CMYK conversion process can render softened colors or undesired color shifts. If this is your first time making stickers with us, we recommend ordering a PDF proof.
Think About Ordering a Digital Proof
You can select the "digital proof" option for $5. Usually, within one business day, we will email you an image showcasing the cut lines around your image.  The proof you receive will appear something like this:
For producing die-cut stickers, we only send digital proofs at no cost via email if we are unclear about how the die-cut should appear. Feel free to request a PDF digital proof if absolutely necessary - we don't mind at all - simply let us know in the above proofing area. Please note, we double-check all artwork before printing to help ensure 100% satisfaction.
More Information about Custom Stickers
The color accuracy and richness are incredible since we print using high-quality wide-format machines designed to handle a wide color spectrum. All stickers and decals are considered full bleed. Art should include a 1/4" bleed area. We can provide a white border which is useful in cases where a white outline is preferred or bleed area cannot be achieved.
Die Cut Sticker Reviews
"Second time used PrintKEG. the banner print looks beautiful, very happy with the result. Great feedback on the resolution of the source. Nice to see the price of stickers reduced, will for sure order from you again." - Neal
Shipping Your Stickers
For custom stickers and decals, we usually ship via UPS. Our shipping team may select USPS for destinations like Hawaii and Puerto Rico. If stickers are included with other print types (such as posters, flyers, etc.), they will likely ship separately with UPS.
---
Die Cut Sticker FAQ
What is a die-cut sticker?
The phrase 'die-cut' indicates we cut your sticker around the custom shape of your artwork. Many customers refer to die-cut stickers as custom-shaped stickers. If you order die-cut stickers, we trim them around the edge of your artwork or image.
How long will my die-cut stickers take to arrive?
Our setup team will send your design proof for approval within 12 working hours after placing your order (if you selected a digital PDF proof). Once approved, printing takes three to four working days.
Can I see how stickers look before printing?
Sure! Be sure to select the digital proof option for $5. Usually, we can send a PDF within 12 working hours from ordering (business days). The design visualization presents how your sticker will appear after printing and cutting.
What artwork can I upload?
We can accept most types of artwork. Since they offer the sharpest print quality, our favorite file types are vectors (PDF, EPS, SVG, AI, CDR). If you cannot provide a vector file, upload the highest resolution graphic possible; this will be a file type such as; JPEG, BMP, PNG. If you send us a vector file, please convert text to curves/outlines and change colors to CMYK.
View full details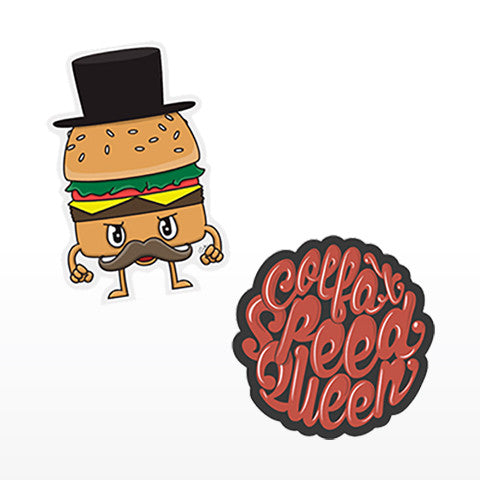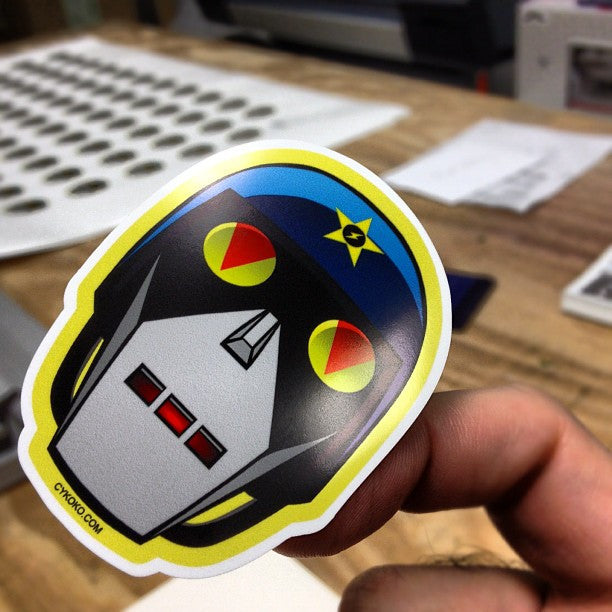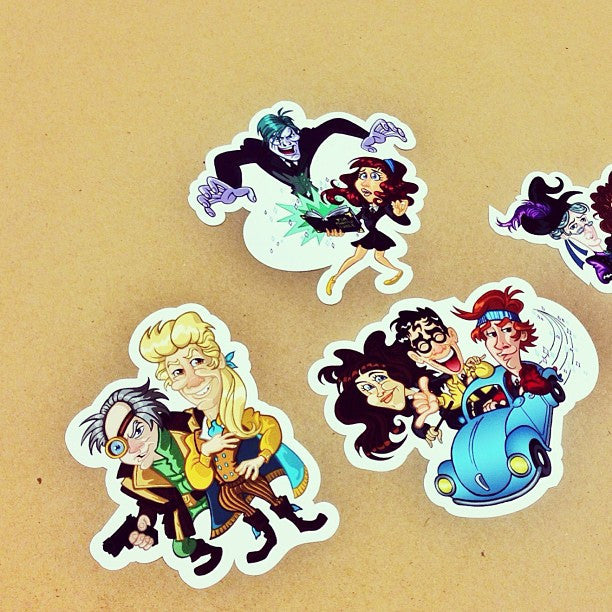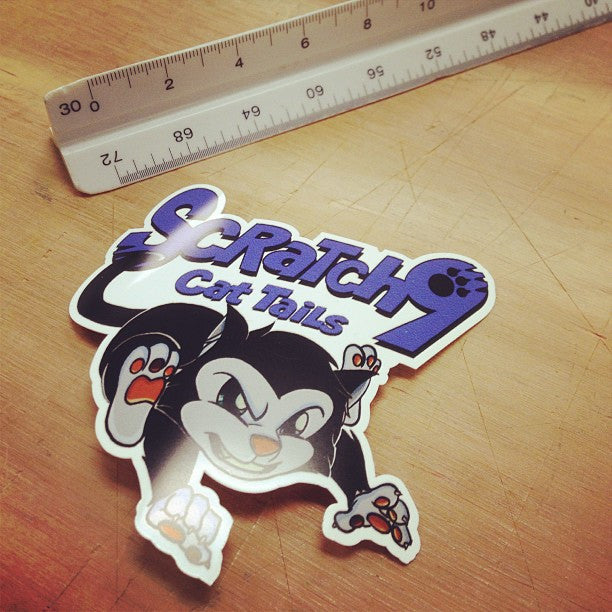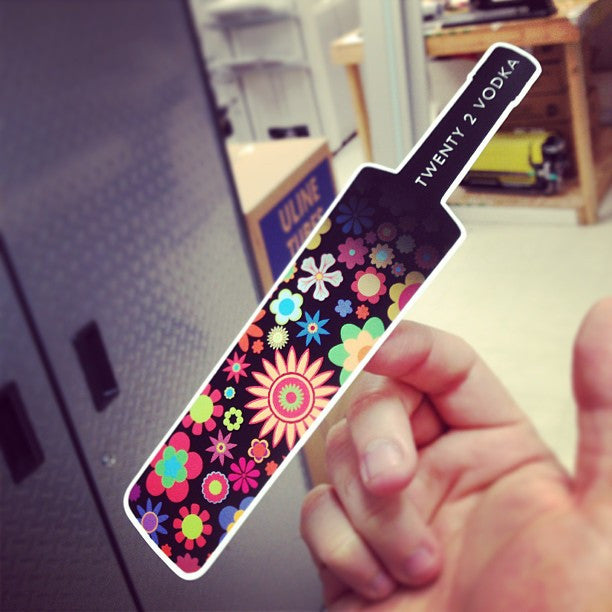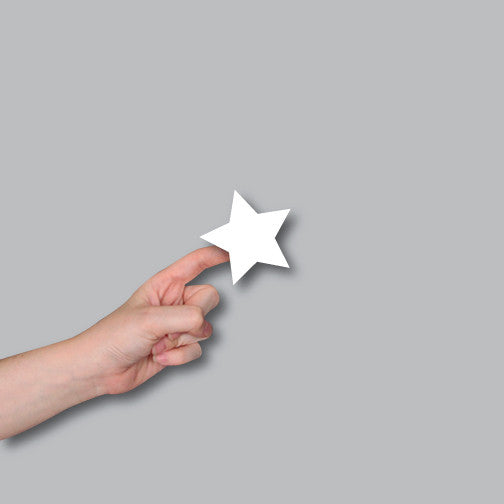 Service Descriptions
Digital Proof

A Printkeg artist will prepare your artwork for printing and send you a visual in PDF format via email. This usually takes place within a few business hours. The image we will email you showcases trim location and CMYK colors in a limited fashion.

Make Graphic Work

This $9 option informs our staff to move forward with quick fixes and tackle any possible obstacles. Benefits may include reviewing file dimensions, tackling border issues, and reworking challenging "bleed" areas. There is one goal in mind: to ensure perfect Art Prints.

Edit My Design

This option is inexpensive for hiring us to modify your image file. Our designers edit or place elements into your file, like text, images, etc. The most common use of this service is changing event dates, removing signatures, and swapping photos.

Create My Art

We hire a trusted graphic designer with whom we've worked closely to help you create a new design from scratch. Most communication is via email. Most designs are finished in only a few business days.

Rush Turnaround

Rush Turnaround speeds up your order time by one day. That could mean same-day printing. You need your prints urgently, so we will try to make it happen. We sometimes expedite the shipping if we cannot honor same-day printing.

Free Art Inspections

A human artist reviews every single file before printing starts. If we notice any problems, a Printkeg representative will contact you via email with options how to move forward.
Why Should You Print With Us?
Guaranteed Happiness

Our primary goal is to make sure you are happy with your prints, The Printkeg Promise. This is our guarantee and commitment to serving artists across the nation. It doesn't help anyone if you purchase retail art you can't actually sell. We are here to ensure your success.

Dedicated to Artists

In our "About Us" area, you can view incredible photographs of the most recent Fine Arts Printing projects we've worked on. We geared our entire atmosphere, including the workforce and production facility, to serve retail artists first and foremost.

Fast Production Times

We contribute some of the fastest turnaround times for Art Prints in the Fine Arts Printing industry. You'll be impressed with our fast production times, rush turnaround options, and available expedited shipping methods.