Regular price
Sale price
$ 44.99
Unit price
per
Sale
Sold out
We're always searching for ways to make things easy, yet economical, for new artists selling prints at conventions and online marketplaces. Some artists struggle to pick the right size ratios, add proper bleed area, and work in CMYK color mode. These obstacles are why we are introducing bundles. You submit your one art file, and we handle the rest.
You send us one file, and we do the rest. You can order more than one bundle.
Benefits
Send us one file; we do the rest.
Easy and quick to order.
Bundle deals increase profitability.
We review your art for proper printing.
Three card stock choices intended for artwork
Pick one of these four print bundles:

Bundle #1:
24 5x7 cards, 12 8x10 prints, and 6 11x14 prints.
-------
Bundle #2:
45 4x6 cards, 12 8x12 prints, and 6 11x17 posters.
-------
Bundle #3
24 4.25x5.5 cards, 12 8.5x11 prints, 6 11x14 posters.
-------
Bundle #4 (Square prints)
24 4.75x4.75 cards, 12 8x8 prints, 6 10x10 prints
You send us one art file (preferably 11x14 or 11x17, and we will do the rest). Bundles can only consist of single-sided prints.

Three Paper Choices
Gloss Card (110# Cover) – Our satin-gloss media provides a light sheen and gorgeous colors.

Matte Card (100# Cover) – The smooth matte card is an elegant and uncoated alternative to gloss.

Textured Matte (100# Cover) – This extraordinary card stock is the foundation of our fine arts section and gives artists a textured choice.
Add a Metallic Variant
If you add a Rose or Gold Metallic variant, that print will be the same size as the largest in your bundle. For instance, if you select Bundle #1, your metallic print will be 11x17.
Turnaround Time For Bundles
Two business days. 
The turnaround period begins once the artwork is sent to production, which may take 2 to 4 business hours after our staff graphics artist reviews the artwork.
Digital Proofs Available
Digital proofs are PDF files we send to you by email to show how the art should appear when printing. Since we are proofing three files, the cost is $15.
Art Specifications for Printing Bundles
With "Print Bundles," you send us one file per bundle. We convert that one file into three different sizes. If the below specs don't make much sense to you, upload your file and let us worry about the rest. If we need your assistance, we will contact you.
It would be nice to keep valuable components, like signatures and text, at least 0.25 inches away from the four edges. We may ask to add borders if you cram that information right on the edges.
Review your quality settings and make sure you work in a 300 dpi space. Sadly, many graphics applications default to a web-quality 72dpi (Photoshop) or a modest-quality 132dpi (Procreate). Raising the resolution settings to 300 or higher before beginning is essential for quality.
Please submit PDF or JPG files. Our artists will accept other files such as PNG, EPS, and TIF. We do not open DOC, PUB, or PPT files. Thankfully, most Microsoft products allow you to export your file as a PDF.
We convert all artwork available in "Bundle" packages to CMYK. Many designers accidentally work in RGB, but this color mode is primarily for digital media. CMYK conversion can cause softened colors or undesired color shifts. If this is your first time printing your artwork with us, we recommend ordering a PDF proof. We only email one proof per bundle.
Reviews
"Absolutely amazing! I'm so impressed at the quality at which my art prints turned out. You took a normal 8x10 drawing and made it 5x7 as well as 11x14 with no flaws. There was no pixelation or blurriness at all. Thank you for making the production of my artwork possible! " - Alexis
"I had such a great experience purchasing from PrintKeg. The shipping was fast, and the quality was amazing! Will use their service again!" - Kasee
"Arrived SO quickly, easy ordering experience, and great quality and color accuracy. Would definitely use Printkeg again!" - Matt
"I absolutely love my prints, and the communication was top-notch!" - Morgan
Sending Us Art
Please upload your art on this page or send it to us later. If you experience technical difficulties while uploading artwork, please feel free to email files to art@printkeg.com with the order number as the subject. For larger files of 50MB or over, please try to use a third-party file storage company (Google Drive, WeTransfer, Dropbox, etc.). 
View full details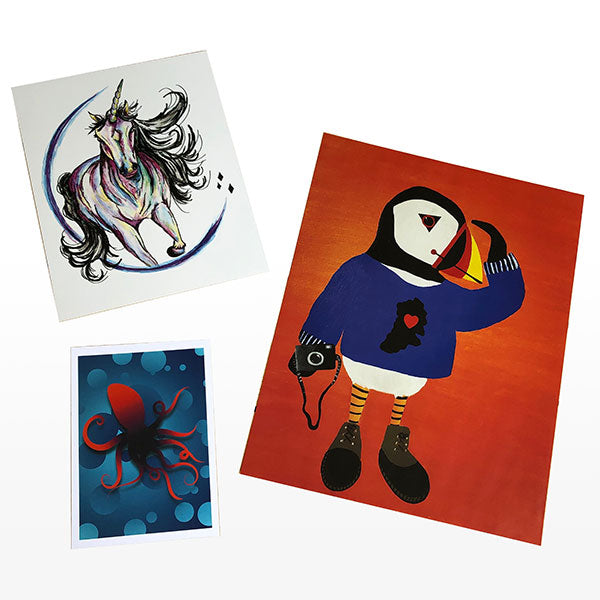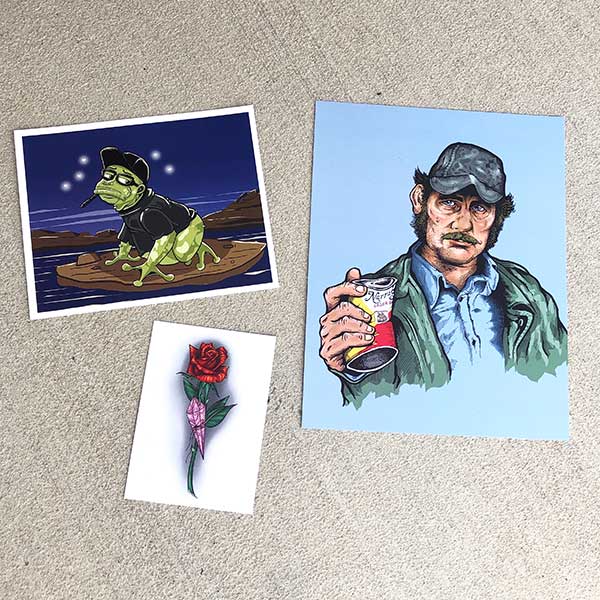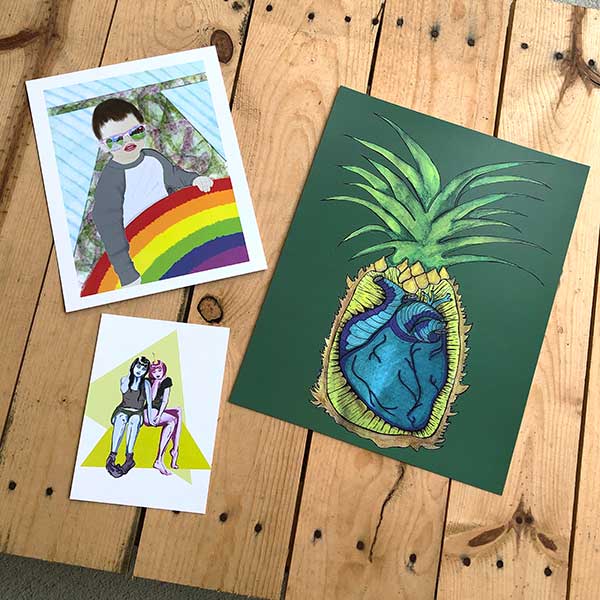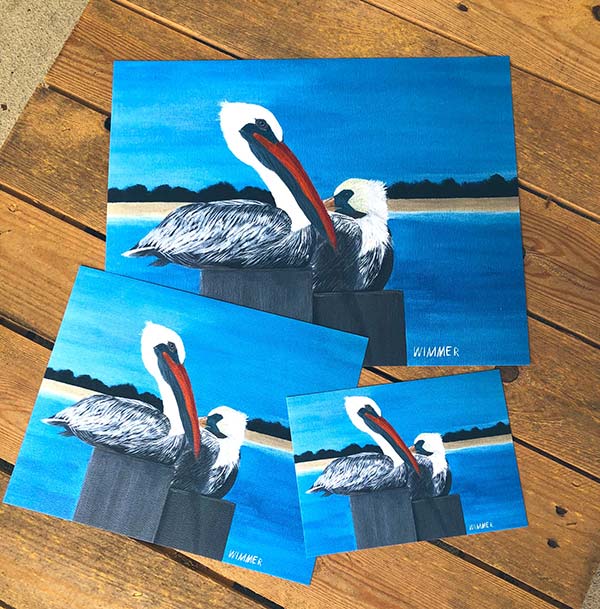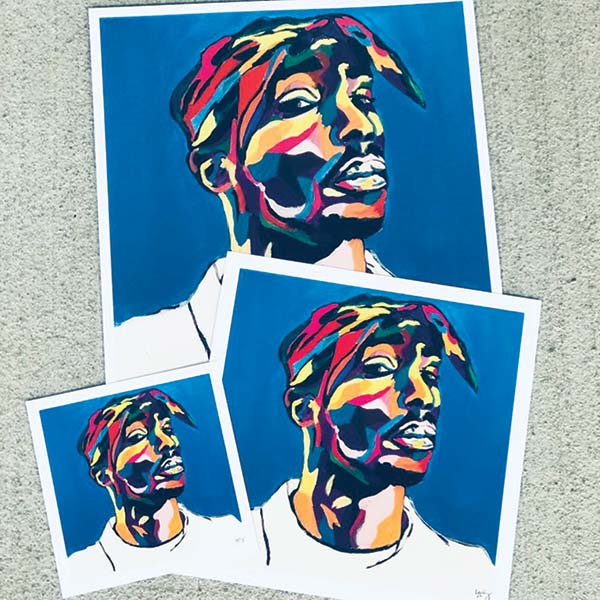 Three Archival Card Choices
Gloss Card

Postcards on gloss card offers rich colors and a satin shine perfect for almost everything.

Matte Card

The matte cardstock for postcards is smooth, uncoated, warm, and bright white. All colors are a little more subtle - purposely.

Textured Card

This felt textured card offers a watercolor paper hand to capture the authenticity of tangible art and imperfections that make every print unique.
Service Descriptions
Digital Proof

A Printkeg artist will prepare your artwork for printing and send you a visual in PDF format via email. This usually takes place within a few business hours. The image we will email you showcases trim location and CMYK colors in a limited fashion.

Make Graphic Work

This $9 option informs our staff to move forward with quick fixes and tackle any possible obstacles. Benefits may include reviewing file dimensions, tackling border issues, and reworking challenging "bleed" areas. There is one goal in mind: to ensure perfect Art Prints.

Edit My Design

This option is inexpensive for hiring us to modify your image file. Our designers edit or place elements into your file, like text, images, etc. The most common use of this service is changing event dates, removing signatures, and swapping photos.

Create My Art

We hire a trusted graphic designer with whom we've worked closely to help you create a new design from scratch. Most communication is via email. Most designs are finished in only a few business days.

Rush Turnaround

Rush Turnaround speeds up your order time by one day. That could mean same-day printing. You need your prints urgently, so we will try to make it happen. We sometimes expedite the shipping if we cannot honor same-day printing.

Free Art Inspections

A human artist reviews every single file before printing starts. If we notice any problems, a Printkeg representative will contact you via email with options how to move forward.
Why Should You Print With Us?
Guaranteed Happiness

Our primary goal is to make sure you are happy with your prints, The Printkeg Promise. This is our guarantee and commitment to serving artists across the nation. It doesn't help anyone if you purchase retail art you can't actually sell. We are here to ensure your success.

Dedicated to Artists

In our "About Us" area, you can view incredible photographs of the most recent Fine Arts Printing projects we've worked on. We geared our entire atmosphere, including the workforce and production facility, to serve retail artists first and foremost.

Fast Production Times

We contribute some of the fastest turnaround times for Art Prints in the Fine Arts Printing industry. You'll be impressed with our fast production times, rush turnaround options, and available expedited shipping methods.