Regular price
Sale price
$ 23.99
Unit price
per
Sale
Sold out
Geared towards photography, paintings, and drawings, Printkeg serves wide-format, or panoramic, solutions with archival, beautiful, and ultra-wide prints. Panoramic prints are provided using giclée, or inkjet, large format machines. Custom sizes and cuts are welcome, and art can be submitted vertical or horizontal.
For standard large-format sizes, please visit our large posters page. Vinyl is also available in our premium banner printing area.
Save More When You Print More
Like large poster printing, each panoramic print can be different artwork. Unfortunately, the "art upload" button only accepts one file. If your order will be multiple files, please email the artwork or send it via file sharing application like Dropbox or Google Drive.
You Will Love Our Two Quality Photo Papers
Photo Gloss - This premium satin-gloss photo paper supplies vibrant colors and superior fade resistance at a very competitive price. This media also ensures accurate color, excellent finish, and a 200-year archival rating.
Photo Matte - We offer an FSC Certified, unique coated matte photo paper that provides an elegantly smooth finish. This media delivers full-color graphics and photo-realistic images with uniform ink coverage.
Turnaround Time For Panoramic Prints is Fast
Turnaround time is the period between the date of the initial order time and the shipping date. Orders 25 and over cannot ship in one business day. Digital proofs, large orders, and art issues can extend turnaround time.
Many Panoramic Sizes Are Available
Printkeg offers many different wide-format rectangle sizes intended for panoramic photography and images. Please contact us for situations requiring alternative size options not available on this page.
Sending Us Your Panoramic Art Now or Later
If your panoramic art file exceeds 50MB (typical for large prints), please send it to us by email to art@printkeg.com or via file sharing apps such as Dropbox, Google Drive, or any other service of your choice. The above form cannot handle files over 50MB. When sending artwork to us through another platform, please remember to provide us with the order number somewhere along the way.
Read These Art Recommendations to Improve Your Panoramic Prints.
If the below recommendations seem written in Na'vi to you, don't let that prevent you from getting started. Our helpful crew inspects all artwork to ensure your panoramic prints appear crisp and clear. If we cannot settle any issues we encounter, one of our team members will reach out.
We treat panoramic printing differently than smaller prints. Feel free to make the dimensions of your art files the same as the print size you select. For example, if you order 24" x 60" prints, you can submit your art 24"x 60" no bleed area included. Everything should run smoothly as long as the most critical elements are at least one-quarter-inch away from the edges.
When planning large print designs, exporting files from your camera, or photographing paintings, make sure your print file will be at least 300dpi. 300dpi is the lowest setting considered high-quality in the commercial print industry. Regrettably, many applications export art as a web-graded 72dpi or low-setting 132dpi. Those images may look fabulous on your monitor but not-so-great via print.
We desire PDF or JPG files. Our team also accepts other standard file types such as PNG, EPS, or TIF. If you are working in Photoshop or Illustrator, make sure to flatten layers or outline fonts before saving. Also, review the "save" settings to ensure they are not compressing your file.
Unlike our smaller print products, you can submit panoramic files in RGB or CMYK color mode. Our giclée printing method can reach colors beyond CMYK. Although we cannot technically match every RGB color (such as fluorescents), this benefit is superior for reproducing artwork.
The Reviews for Our Panoramic Prints Are Stellar
"I really do appreciate your company. I know it's frustrating, especially right now but I wanted to thank you for all your hard work in keeping it alive, and the quality and price you offer people, with budget-minded not for profits like the one I work for, it really means a lot." - Polly
"I am very pleased with the service and product I received from you. The ordering process was easy and shipping was very quick. Most of all, the communication between us, never left me in the dark. I will be ordering again from your organization." - Christopher
Shipping Panoramic Prints Safely
All Panoramic Prints are wrapped in Kraft paper and shipped in durable high-capacity tubes. Our shipping department will add extra bubble wrap or paper inside to prevent prints from moving.
Orders that include panoramic prints or large posters along with other print products, such as flyers and postcards, may require extra shipping costs. We will contact you beforehand if this occurs.
---
Other Products Similar To Panoramic Prints.
Panoramic Prints and Large Posters are Siblings.
Panoramic Prints are essentially an extension of our poster printing services. We needed a way to add wider dimensions within the confines of our e-commerce store. Panoramic Prints and Large Posters both offer two archival papers: photo gloss and photo matte.
Meet the Big Brother - Outdoor Banners.
For panoramic prints that can withstand the outdoors, you may consider vinyl banners. Banners are long-lasting and include options such as grommets, pole pockets, and hems.
---
View full details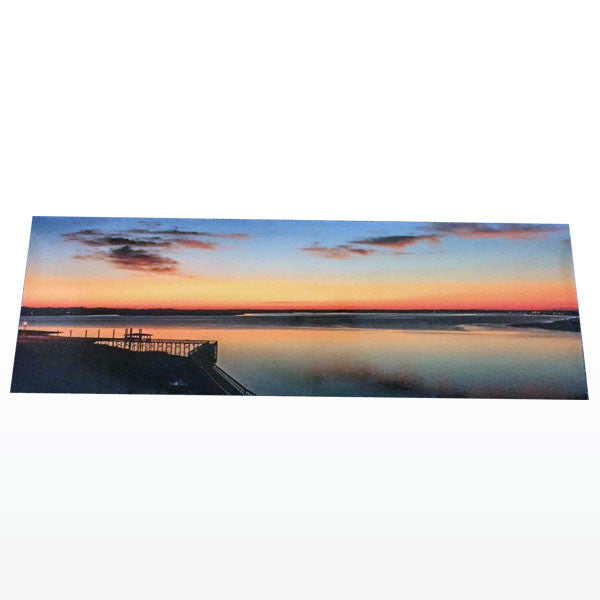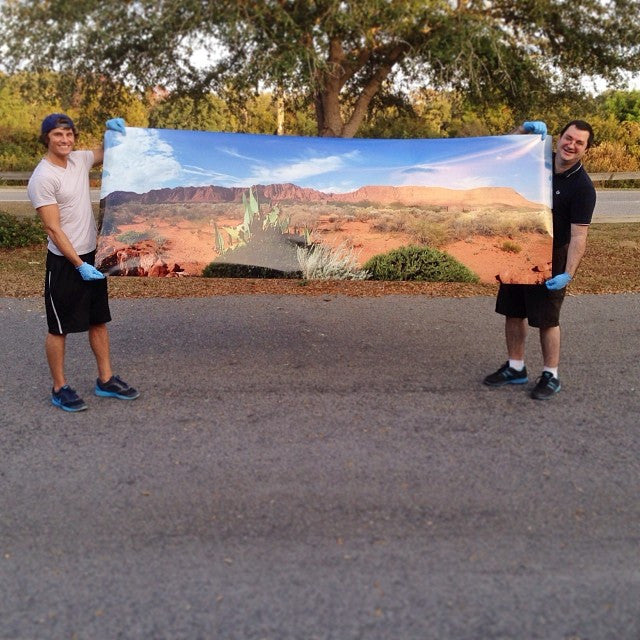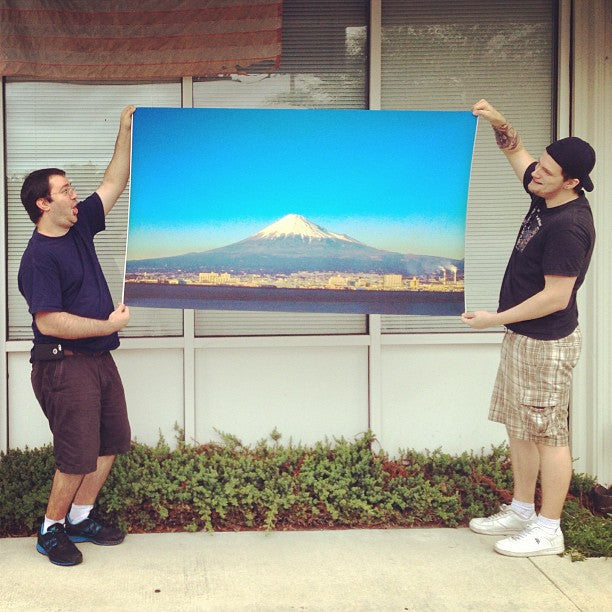 Archival Papers for Large Giclee Prints
Semi-Gloss Cardstock

This 12pt card option features a semi-gloss surface and a block-out center layer will keep the light out, ensuring 100% opacity. They are ideally used to print event posters, indoor signs, banners, and P.O.P. items.

Classic Glossy Photo Paper

The classic glossy photo paper can be used to print enlarged photos, signs, and artwork. They are delicate and not scuff-resistant or waterproof.

Premium Photo Matte Paper

Made for giclee printing, this FSC Certified matte photo paper is heavy with a sophisticated, flat finish and delivers full-color graphics and photo-realistic images with consistent ink coverage.

Premium Photo Gloss Paper

Combined with the giclee printing method, this premium satin-gloss photo paper furnishes vibrant colors and superior fade resistance. Enjoy the perfect color, excellent luster finish, and 200-year archival rating.

Media For Art Reproduction

Watercolor Paper has a natural white, acid-free, and made from 100% cotton rag. Canvas is stretchable, water-resistant, textured. Both media options are perfect for fine art reproduction.

What is Giclee Printing?

Giclee is a superior art printing method created using a specialized high-resolution inkjet printer. A giclee is synonymous with "art print" and stands apart with its extremely high quality, longevity, and value compared to a standard print.
Service Descriptions for Large Prints
Digital Proof

A Printkeg artist will prepare your artwork for printing and send you a visual in PDF format via email. This usually takes place within a few business hours. The image we will email you showcases trim location.

Make Graphic Work

This $9 option informs our staff to move forward with quick fixes and tackle any small obstacles. Benefits may include reviewing file dimensions, tackling border issues, and reworking challenging "bleed" areas. There is one goal in mind: to ensure perfect Art Prints.

Edit My Design

This option is inexpensive for hiring us to modify your image file. Our designers edit or place elements into your file, like text, images, etc. The most common use of this service is changing event dates, removing signatures, and swapping photos.

Create My Art

We hire a trusted graphic designer with whom we've worked closely to help you create a new design from scratch. Most communication is via email. Most designs are finished in only a few business days.

Rush Turnaround

Rush Turnaround speeds up your order time by one day. That could mean same-day printing. You need your prints urgently, so we will try to make it happen. We sometimes expedite the shipping if we cannot honor same-day printing.

Free Art Inspections

A human artist reviews every single file before printing starts. If we notice any problems, a Printkeg representative will contact you via email with options how to move forward.
Why Should You Print With Us?
Guaranteed Happiness

Our primary goal is to make sure you are happy with your prints, The Printkeg Promise. This is our guarantee and commitment to serving artists across the nation. It doesn't help anyone if you purchase retail art you can't actually sell. We are here to ensure your success.

Dedicated to Artists

In our "About Us" area, you can view incredible photographs of the most recent Fine Arts Printing projects we've worked on. We geared our entire atmosphere, including the workforce and production facility, to serve retail artists first and foremost.

Fast Production Times

We contribute some of the fastest turnaround times for Art Prints in the Fine Arts Printing industry. You'll be impressed with our fast production times, rush turnaround options, and available expedited shipping methods.