Regular price
Sale price
$ 62.99
Unit price
per
Sale
Sold out
Brown Kraft Cards showcase a homemade, personalized touch. Thick, rich, light brown kraft paper has natural fibers and subtle visible flecks promoting an organic look and feel. The stock is 100% recycled, advancing its rustic, eco-friendly appeal. Additionally, you can white ink for added "pop" to your designs.
Features of Kraft Cards
100% Recycled and durable 18pt Card Stock.

Matching Kraft envelopes are optional.
Two flat print sizes available:  4.25" x 5.5" and 5" x 7"
One folded greeting card size: 5" x 7"
Add white ink to your design.

All cards are full bleed and full color.
We examine art files for proper setup before printing starts.
About the Kraft Media
Brown Kraft paper is light brown with natural fibers and subtle visible flecks, granting it a natural, organic look and feel. The uncoated smooth finish provides excellent print quality, while the colored stock adds warmth and a rustic appeal to images. Apply optional white ink in specific areas for brighter imagery. Brown Kraft is 100% recycled with a minimum of 30% post-consumer waste content.
Add Matching Kraft Envelopes
Order cards with or without Kraft 80# Text blank envelopes.
Excellent Turnaround Times
Once your order is received, turnaround time requires 3 to 4 business days for all quantities of metallic pearl cards. Turnaround time does not impact shipping transit days.
Other Impressive Card Stocks To Choose
18pt CS1 Card (Glossy Exterior, Uncoated Interior) - The exterior is ultra-shiny with UV Coating and the interior is uncoated for writing purposes.
Gloss Card (110# Cover) - A more premium card, this gloss stock enhances color vibrancy and allows for small quantities.
Matte Card (100# Cover) - Our favorite choice is an archival media and favorable to writing - perfect for note cards and art cards.
Card Templates
This downloadable template offers a better way to visualize the bleed area for each printed side. Your file should be 7.25 x 10.25."
Art Specs
Make sure to add at least 0.25 inches to your order size. This extra area is called "bleed" area and allows us to print edge-to-edge.
Try to work in the color mode CMYK, not RGB.
Outline all fonts.
Provide us a second vector PDF file for placement of white ink. We cannot add white ink without it.

Further Details About Folded Kraft Cards
Folded Kraft Cards are 10" x 7" (or 7" x 10") cards scored and folded in half. We thoughtfully score and fold each piece. We print all flat and folded cards edge-to-edge (also considered full-bleed or borderless). We only provide a margin if that area is present in the original artwork.
Single or Double?
Make your Kraft Cards single or double-sided.
Digital Proofs Might Be Useful
If you prefer to see a digital sample before printing occurs, please opt for a PDF digital proof. This extra step may delay an order by one business day but could help you avoid mistakes. The PDF will not showcase accurate colors or the appearance of the Kraft paper but can help you visualize placement and folding.
A PDF digital proof is usually not required for most artwork. Don't worry; we briefly review and inspect all art files for quality purposes. If we see obvious problems, we will contact you before production to ensure fabulous results!
Scoring Kraft Cards
Our production staff scores all Kraft folded cards for your convenience. They are not folded.
---
How Do I Set Up Art for Kraft Cards with White Ink?
The white ink acts as a base providing a bright white surface that enables vibrant, crisp color. Areas without white ink will appear darker due to the color of the stock.
Similar to Spot UV masks, White Mask files are separate from your artwork files. Black in the White Mask file indicates where we should print white ink.
Make sure to create your mask file the same size as your artwork file. 
Note: White Masks must be made in vector format and saved as EPS or PDF. Please be aware that anything less than 100%K will be transparent and allow the brown stock to show through.
Use vector paths/shapes to create black color areas that indicate where the white ink base will go. The rest of the card will show the Brown Kraft stock.
Remember the following when creating a white mask for your white ink base:
The white ink base prints behind any color that's in your Artwork Layer.

The Kraft material will be visible in areas with colors that are without a White Mask.

When we print colors on top of a white base, those colors will appear opaque.

Sites with a White Mask and no color above them will appear as white.
Visual 1: See how a white under can impact colors.
This first graphic shows how white impacts color. The left side includes a white layer base where the colors are located. The right side is without a white layer. Both sides appear fine but represent the potential of using a white base in specific areas.
Visual 2:  Add a white base on the entire image - or not.
You can add a white base on the entire image or let the Kraft paper show through the design for a unique appearance.
Visual 3: Allowing the white ink to show
Most people prefer to use white ink for large text or specific areas. Some designs only require us to print white without any colors at all. There are endless possibilities! 
---
View full details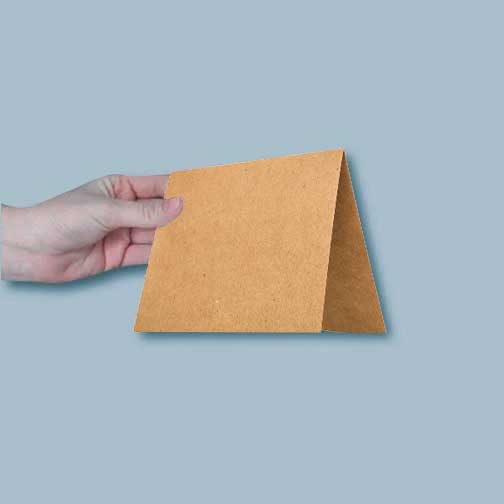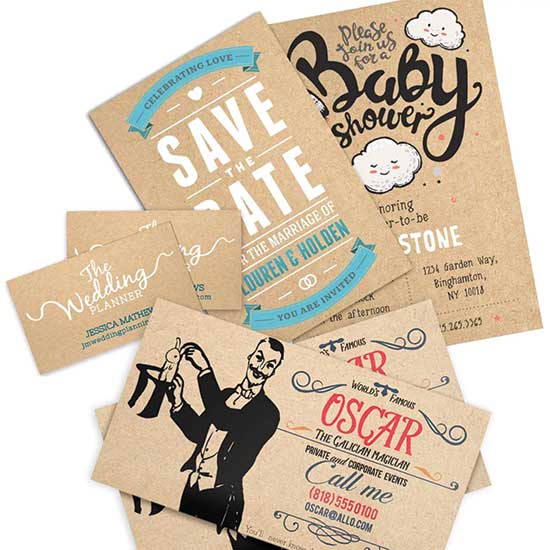 Specialty Options for Greeting Cards
Service Descriptions
Digital Proof

A Printkeg artist will prepare your greeting card artwork for printing and send you a visual in PDF format via email. This usually takes place within a few business hours. The image we email showcases trim location and CMYK colors.

Make Graphic Work

This $9 option informs our staff to move forward with quick fixes and tackle any possible obstacles. Benefits may include reviewing file dimensions, tackling border issues, and reworking challenging "bleed" areas. There is one goal in mind: to ensure perfect Art Prints.

Edit My Design

This option is inexpensive for hiring us to modify your image file. Our designers edit or place elements into your file, like text, images, etc. The most common use of this service is changing event dates, removing signatures, and swapping photos.

Create My Art

We hire a trusted graphic designer with whom we've worked closely to help you create a new design from scratch. Most communication is via email. Most designs are finished in only a few business days.

Rush Turnaround

Rush Turnaround speeds up your order time by one day. That could mean same-day printing. You need your prints urgently, so we will try to make it happen. We sometimes expedite the shipping if we cannot honor same-day printing.

Free Art Inspections

A human artist reviews every single file before printing starts. If we notice any problems, a Printkeg representative will contact you via email with options how to move forward.
Why Should You Print With Us?
Guaranteed Happiness

Our primary goal is to make sure you are happy with your prints, The Printkeg Promise. This is our guarantee and commitment to serving artists across the nation. It doesn't help anyone if you purchase retail art you can't actually sell. We are here to ensure your success.

Dedicated to Artists

In our "About Us" area, you can view incredible photographs of the most recent Fine Arts Printing projects we've worked on. We geared our entire atmosphere, including the workforce and production facility, to serve retail artists first and foremost.

Fast Production Times

We contribute some of the fastest turnaround times for Art Prints in the Fine Arts Printing industry. You'll be impressed with our fast production times, rush turnaround options, and available expedited shipping methods.