Regular price
Sale price
$ 23.99
Unit price
per
Sale
Sold out
Many envelope styles are optional.  
We produce luxurious custom printed 5x7 finished greeting cards for almost any season. Our production crew individually scores them for folding perfection. We also partner each card with an opaque envelope of your choice. We've seen folded cards utilized for almost every occasion imaginable. Think holiday cards, party invitations, art collections, thank you cards, greeting cards, birthday cards, and much more. The team at Printkeg would love to help print your next card project.
The actual print area is 10" x 7" or 10.25" x 7.25" if accounting for the bleed area.
Features of Custom 5x7 Folded Cards
A7 envelopes are optional. 
Try one of ten additional colorful envelope options.
Both sides of your 5x7 card are full bleed and full color.
We review all image files for proper art setup.
Enjoy four elegant gloss and matte card choices.
Impressive 5x7 flat cards are also available.
Four Convenient Card Choices
We offer four beautiful, sustainably sourced card stocks for custom 5x7 folded cards and invitations. Two are less expensive for handing out, and two are more durable for high-end circumstances.
Gloss Card (80# Cover) - This media is the most economical card choice for greeting cards.
Matte Card (70# Cover) - The matte solution is exceptional for elegant cards requiring less shine.
Matte Card (100# Cover) - Our favorite choice is a smooth media conducive for writing on and perfect for note cards and art cards.
Gloss Card (18pt / Gloss Exterior) - A more premium and durable card, this gloss stock enhances color vibrancy. Order now.
We recommend the latter options, but the first two paper choices offer significant savings and are often preferable.
---
When Do We Start Printing?
2 to 3 business days for all quantities. The turnaround time does not include shipping days.
Art Specifications for Custom 5x7 Folded Cards
If the following specs seem like Klingon language, don't let that deter you from ordering custom 5x7 folded cards. Our experienced professionals analyze all artwork before printing begins. If we cannot resolve the difficulties we discover, one of our friendly staff members will reach out to you.
Try to prepare your art files with 10.25" x 7.25" (spread) or 5.127" x 7.25" dimensions. If needed, we can make adjustments, so concentrate on keeping valuable components at least 0.25 inches away from the four edges.
Review the quality settings to recognize if you are operating in a 300dpi space. Many popular graphics apps default to a web-quality 72dpi (Adobe Photoshop) or a modest-quality 132dpi (Procreate). Increasing the quality setting to 300dpi or higher before you start working is an enormous step in the right direction for quality.
We prefer PDF or JPG file types. Don't worry; our artists accept other files such as PNG, EPS, and TIF. We do not open DOC, PUB, or PPT files. Thankfully, most Microsoft products allow you to export your file as a PDF.
Try visualizing your digital art in CMYK color mode. We convert all artwork for cards to CMYK. Many designers inadvertently work in RGB, but this color mode is primarily for digital media. The CMYK conversion can lead to softened colors or various color shifts. If this is your first time printing cards with us, we recommend ordering a PDF proof.
You do not need to provide trim or crop marks with your artwork. Designers will sometimes leave this information present, and we will ask you to remove them before moving forward.
This 5x7 Folded Card Template is Helpful.
This downloadable template offers a better way to visualize the bleed area for each printed side. Your file should be 7.25 x 10.25." You will need a program like Adobe Photoshop to use this template,
Further Details About Printing 5x7 Folded Cards
5x7 folded cards are 10x7 (or 7x10) cards folded in half. Single-sided cards include the front and back of the card. A double-sided card adds the inside area. Orders 100 cards and under are shipped pre-folded. We carefully score each piece but only hand-fold orders under 100 quantities. All 5x7 cards are considered "full bleed" or "borderless." We only provide a margin if that area is +in the original artwork.
Our 5x7 folded cards are ideal for printing greeting cards, photo cards, holiday cards, custom art cards, and DIY cards.
Single or Double?
Single-Sided - Art can be on the front and very back of the card.
Double-Sided - This includes printing on the inside of the card as well.
Digital Proofs Might Be Useful
If you prefer a digital sample, please indicate this in the "digital proof" options. A digital proof may delay an order by one business day but may be helpful for proofreading.
A digital proof is usually not required for most artwork. Don't worry; we briefly review and inspect all art files for quality purposes. If we see obvious problems, we will contact you before production to ensure fabulous results!
Folding and Scoring
We score all folded cards and invitations but only fold orders of 100 cards or less.
Pick a Colorful Envelope
Ten smooth A7 envelope choices are available with our 5x7 folded cards:  Ivory White, Natural, Dark Red, Gamma Green, Blast-Off Blue, Eclipse Black, Lift-off Lemon, Pulsar Pink, Gravity Grape, and Grocer Kraft. Envelopes may appear slightly darker/lighter in person than you see on the screen. Sometimes we must make variant substitutions. 
Dark Red, Gamma Green, Blast-Off Blue, Eclipse Black, Lift-off Lemon, Pulsar Pink, and Gravity Grape are only available for 5x7 card sizes (A7).
Reviews of Our Cards
"I've been thrilled purchasing my art prints through Printkeg! Shipping is always fast, and I am impressed with the quality of the prints!" - Elissa.
"Beautiful prints!! They look so much better in real life than the digital copies ever did. Thank you so much for bringing my art to life!" - Jennifer.
"Print quality is phenomenal, and I'm so glad I found you. My dark drawings print beautiful blacks and have crisp colors - the coated papers impress my clients. Very professional." - Lauren.
---
Will My Artwork Fit 5" x 7" Folded Cards?
Our Designers Help Convert Your Art Into Amazing Cards.
We can ordinarily make nearly any picture work as folded cards. Our staff is here to help. Some art may better fit the 5" x 7" space than the 4.25" x 5.5" work canvas. The following dimensions play friendly with the 5" x 7" space.
8.5" x 11"
9" x 12"
11" x 14"
12" x 18"
If your image fits another dimension better, our designers will contact you. We extend this advice to avoid uneven borders, undesired clipping, and yucky stretching.
---
View full details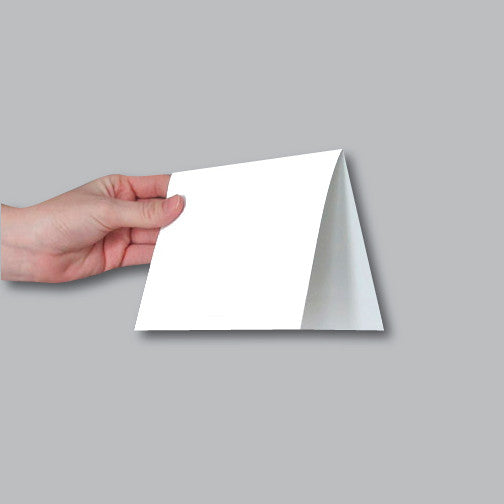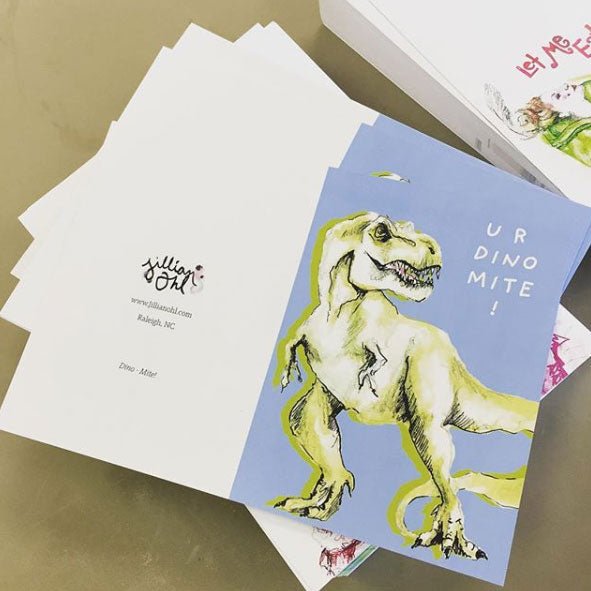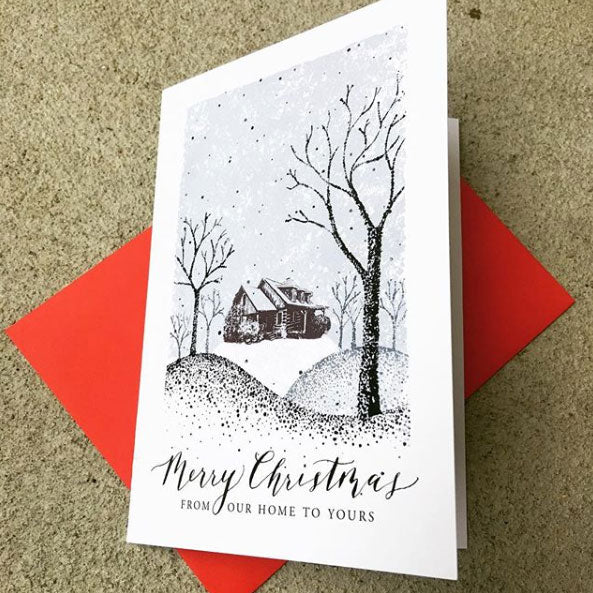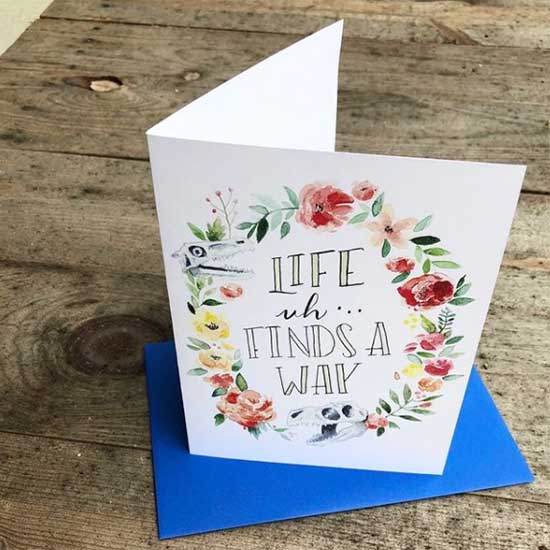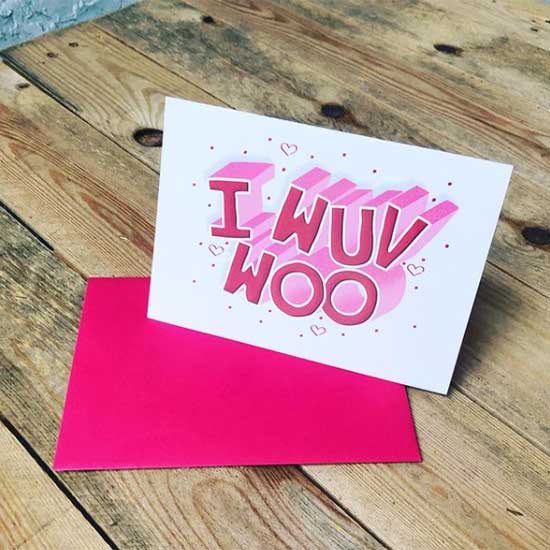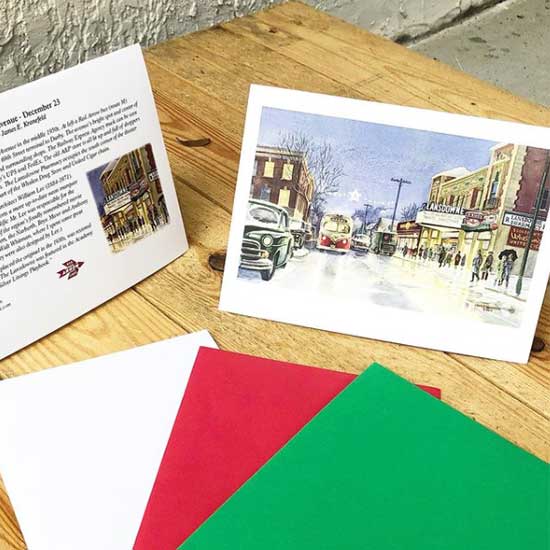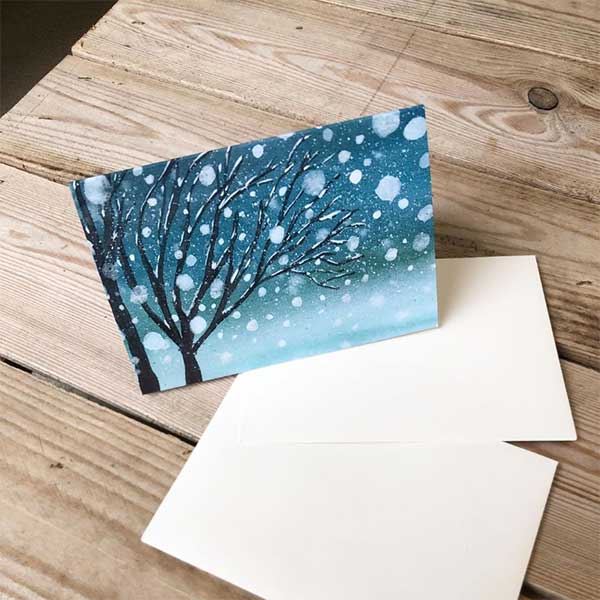 Specialty Options for Greeting Cards
Service Descriptions
Digital Proof

A Printkeg artist will prepare your greeting card artwork for printing and send you a visual in PDF format via email. This usually takes place within a few business hours. The image we email showcases trim location and CMYK colors.

Make Graphic Work

This $9 option informs our staff to move forward with quick fixes and tackle any possible obstacles. Benefits may include reviewing file dimensions, tackling border issues, and reworking challenging "bleed" areas. There is one goal in mind: to ensure perfect Art Prints.

Edit My Design

This option is inexpensive for hiring us to modify your image file. Our designers edit or place elements into your file, like text, images, etc. The most common use of this service is changing event dates, removing signatures, and swapping photos.

Create My Art

We hire a trusted graphic designer with whom we've worked closely to help you create a new design from scratch. Most communication is via email. Most designs are finished in only a few business days.

Rush Turnaround

Rush Turnaround speeds up your order time by one day. That could mean same-day printing. You need your prints urgently, so we will try to make it happen. We sometimes expedite the shipping if we cannot honor same-day printing.

Free Art Inspections

A human artist reviews every single file before printing starts. If we notice any problems, a Printkeg representative will contact you via email with options how to move forward.
Why Should You Print With Us?
Guaranteed Happiness

Our primary goal is to make sure you are happy with your prints, The Printkeg Promise. This is our guarantee and commitment to serving artists across the nation. It doesn't help anyone if you purchase retail art you can't actually sell. We are here to ensure your success.

Dedicated to Artists

In our "About Us" area, you can view incredible photographs of the most recent Fine Arts Printing projects we've worked on. We geared our entire atmosphere, including the workforce and production facility, to serve retail artists first and foremost.

Fast Production Times

We contribute some of the fastest turnaround times for Art Prints in the Fine Arts Printing industry. You'll be impressed with our fast production times, rush turnaround options, and available expedited shipping methods.