Regular price
Sale price
$ 15.00
Unit price
per
Sale
Sold out
We offer three styles of proofing - PDF, Video, and Physical.  With most products, you can add a proofing option directly from that page, but that is not the case with booklets. The PDF option is the most popular for most projects. For booklets, we highly recommend adding a video sample to your order. 
PDF Proof
Great for proofreading
Before printing, we'll email you a digital proof in PDF format generally within 8 business hours. In most cases, we add one day to the turnaround time. A digital proof may help you visualize bleed and trim areas. It is also useful in discovering errors such as missing text and images.
Video Proof
Time-efficient and accurate representation
Video proofs are a fantastic and efficient way to see your physical booklet before committing to the entire run. Before production begins, we will email or text you a .MOV video showcasing one booklet. We highly recommend taking advantage of this step before moving forward with small or large booklet orders.
Physical Proofs
Hold a tangible proof in your hand
Sometimes it's nice to see a physical proof before printing so we'll send a physical proof for your approval which only adds one or two days to your turnaround time. Standard proofs are sent UPS Ground or USPS and Next Day proofs are sent UPS Next Day Air. Your estimated ship date will change based on when we receive approval to move forward. Newsletter/Booklet proofs may take 1-3 business days to set up, but we try to send them out as fast as we can.
We strive to send out physical proofs quickly, and we ensure shipping takes three days or less.
Physical proofs are non-refundable. 
View full details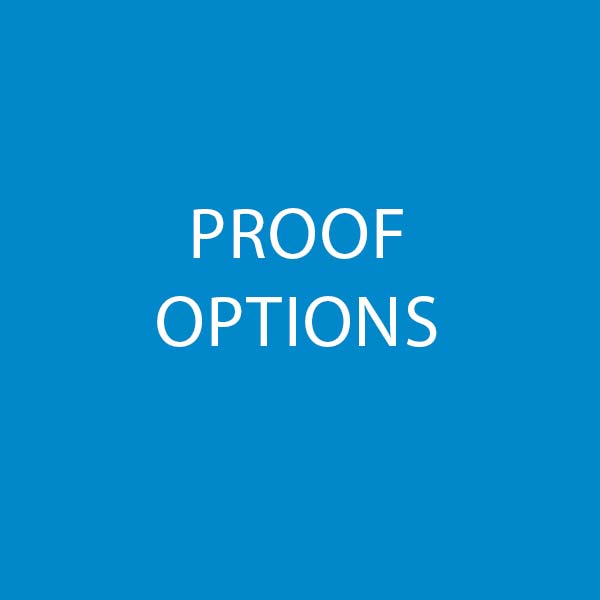 Service Descriptions
Digital Proof

A Printkeg artist will prepare your artwork for printing and send you a visual in PDF format via email. This usually takes place within a few business hours. The image we will email you showcases trim location and CMYK colors in a limited fashion.

Make Graphic Work

This $9 option informs our staff to move forward with quick fixes and tackle any possible obstacles. Benefits may include reviewing file dimensions, tackling border issues, and reworking challenging "bleed" areas. There is one goal in mind: to ensure perfect Art Prints.

Edit My Design

This option is inexpensive for hiring us to modify your image file. Our designers edit or place elements into your file, like text, images, etc. The most common use of this service is changing event dates, removing signatures, and swapping photos.

Create My Art

We hire a trusted graphic designer with whom we've worked closely to help you create a new design from scratch. Most communication is via email. Most designs are finished in only a few business days.

Rush Turnaround

Rush Turnaround speeds up your order time by one day. That could mean same-day printing. You need your prints urgently, so we will try to make it happen. We sometimes expedite the shipping if we cannot honor same-day printing.

Free Art Inspections

A human artist reviews every single file before printing starts. If we notice any problems, a Printkeg representative will contact you via email with options how to move forward.
Why Should You Print With Us?
Guaranteed Happiness

Our primary goal is to make sure you are happy with your prints, The Printkeg Promise. This is our guarantee and commitment to serving artists across the nation. It doesn't help anyone if you purchase retail art you can't actually sell. We are here to ensure your success.

Dedicated to Artists

In our "About Us" area, you can view incredible photographs of the most recent Fine Arts Printing projects we've worked on. We geared our entire atmosphere, including the workforce and production facility, to serve retail artists first and foremost.

Fast Production Times

We contribute some of the fastest turnaround times for Art Prints in the Fine Arts Printing industry. You'll be impressed with our fast production times, rush turnaround options, and available expedited shipping methods.