Regular price
Sale price
$ 89.99
Unit price
per
Sale
Sold out
Plastic business cards can help make a lasting impression on new clients. These rounded cornered 3.5" x 2" cards are water-resistant and tear-proof, increasing the likeliness that customers will remember and save your contact information. You can select white plastic, frosted plastic, or clear plastic.
Plastic Business Card Features
Classic 3.5x2 card size
1/4" or 1/8" rounded corners
20pt durable plastic
100% satisfaction guaranteed
Pick White (most common), Clear, or Frosted.
Corners are rounded 1/8"
A Few Notes
Clear and frosted cards can only be printed single-sided.
Rounded corners can be 1/4" or 1/8". If you would like 1/8", please let us know in the instructions area.
Clear cards are completely transparent. The frosted cards are semi-transparent and cannot be easily seen through.
Transparent plastic business cards come with a peel-off film to help protect them from damage.
Turnaround for Plastic Business Cards
Seven business days plus shipping time. Rush turnaround is not optional for cheap plastic business cards.
If You Need Business Cards Quicker
Please consider one of our other 16pt business card products. 16pt is also far more economical; however, we offer this new 20pt plastic as an alternative for those looking for extremely thick business cards. 
Plastic cards will not affect the turnaround of other print products in the same order.
Digital Proofs for Plastic Cards
Please upload your art to us from this page or email us at art@printkeg.com later with your order number as the subject. We only email free digital proofs if we notice problems or have questions concerning the artwork. We review and observe all artwork before printing to ensure 100% satisfaction.
Upon request, we are happy to provide digital proofing for $5. Digital proofs will add at least one extra day to the turnaround time. 
Art Specifications For Printing Plastic Business Cards.
The following instructions may help you reach quality standards for printing plastic business cards. If the tips seem written in Sindarin language to you, don't allow that to discourage you from ordering cards today. Our experienced in-house artists closely observe all artwork to protect quality.
The dimensions of plastic business card files should be 3.75" x 2.25" rather than 3.5" x 2" to provide a trimming space. We need this area to offer edge-to-edge prints. Keep promoted items, like logos and text, about a quarter-inch away from all four edges. The background of your artwork should expand all the way to the edges.
Before developing your business card layout, review the quality settings to ensure you work in a 300dpi or 600dpi environment. For plastic business cards, we like 600dpi. Beware of widespread graphics software defaulting to low-quality settings since they focus on digital output.
We favor PDF or JPG but still allow other file extensions like PNG, EPS, AI, PSD, and TIF. 
Our team converts all business card art to CMYK color mode. Designers working in RGB color mode might notice softened colors and color variations. If you have never printed business cards online before, please consider obtaining a PDF visualization.
Template for Plastic Business Cards
Below is a horizontal and vertical downloadable PDF template to help set up your file correctly, accommodating the bleed area required for trimming. Using this template will help ensure your cheap plastic business cards appear as intended.
Plastic business cards feel great, and they are easy to carry around without the worry of damaging them. They are also impressive to clients and more likely to be saved by them for future contact. 
Shipping Plastic Business Cards
Plastic business cards ship inside small chipboard card boxes made with 100% recycled material for secure storage and will arrive via a UPS service comparable to the method you select. Plastic business cards will not ship by USPS due to our internal processes.
---
Comparing the Thickness of Plastic Business Cards.
The below list quickly reveals how plastic business cards rank as our second more durable material for business cards.
Painted Edges Business Cards (32pt)
Plastic Business Cards (20pt)
Magnetic Business Cards (17pt)
Classic Business Cards (16pt)
Appointment Cards (16pt)
Square Business Cards (16pt)
---
More Information About Setting Up Art for Plastic Business Cards
Art on clear and frosted plastic cards will appear slightly lighter than it would on typical card material.
When setting up a rich black value, be sure to use C 60 M 40 Y 40 K 100 values.
White areas in clear and frosted cards will show as transparent material not white. If you need white, pick the white plastic option.
All colors printed on clear or frosted cards will appear transparent.
Make sure your art file is set up in CMYK color mode at 300dpi.
---
View full details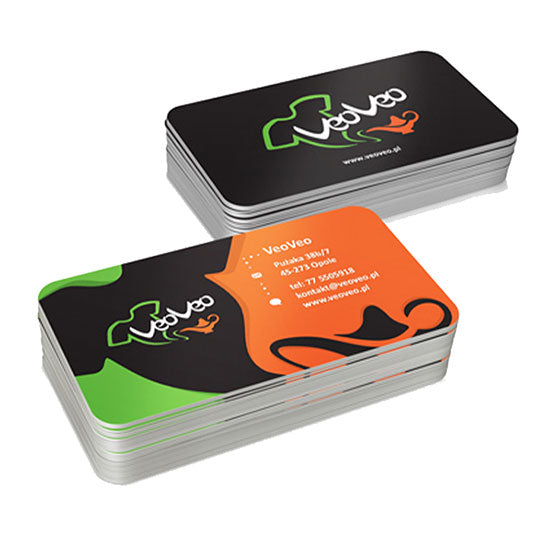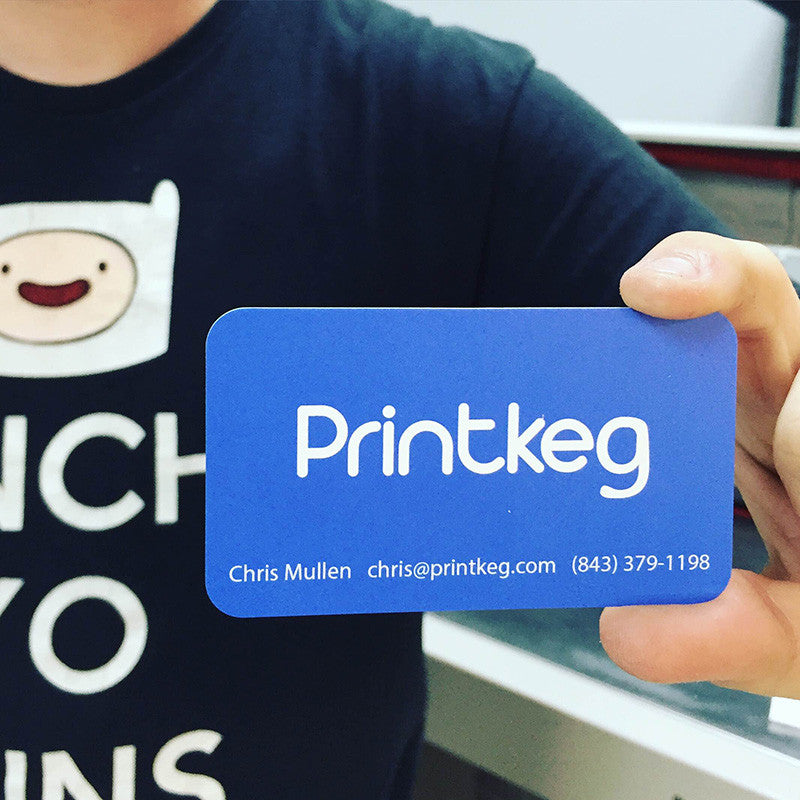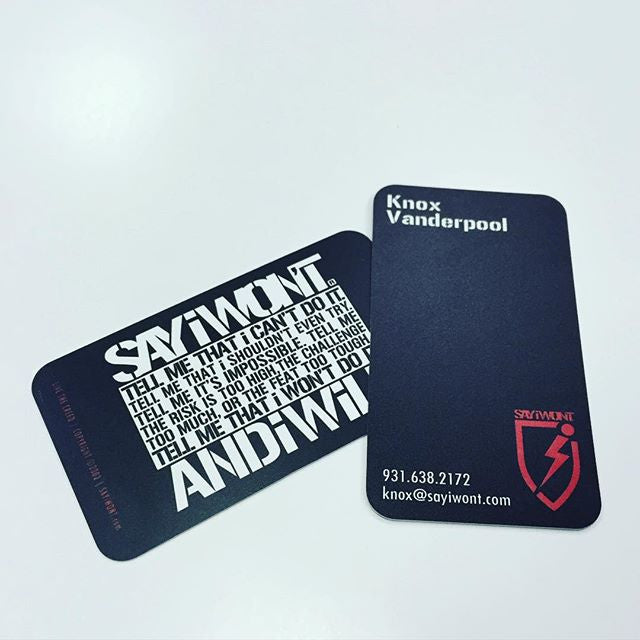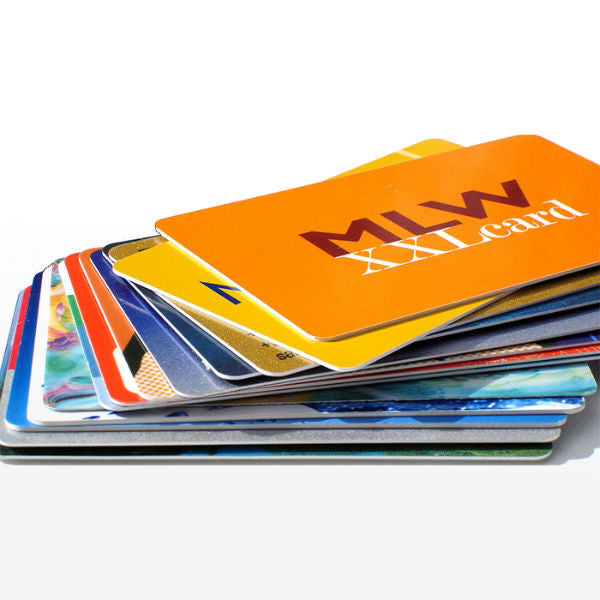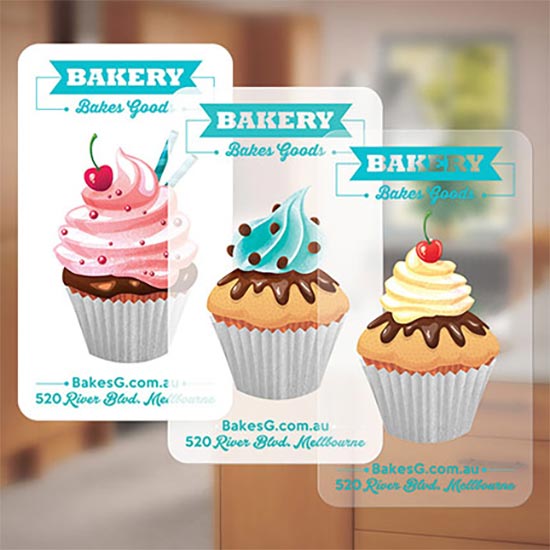 Service Descriptions
Digital Proof

A Printkeg artist will prepare your artwork for printing and send you a visual in PDF format via email. This usually takes place within a few business hours. The image we will email you showcases trim location and CMYK colors in a limited fashion.

Make Graphic Work

This $9 option informs our staff to move forward with quick fixes and tackle any possible obstacles. Benefits may include reviewing file dimensions, tackling border issues, and reworking challenging "bleed" areas. There is one goal in mind: to ensure perfect Art Prints.

Edit My Design

This option is inexpensive for hiring us to modify your image file. Our designers edit or place elements into your file, like text, images, etc. The most common use of this service is changing event dates, removing signatures, and swapping photos.

Create My Art

We hire a trusted graphic designer with whom we've worked closely to help you create a new design from scratch. Most communication is via email. Most designs are finished in only a few business days.

Rush Turnaround

Rush Turnaround speeds up your order time by one day. That could mean same-day printing. You need your prints urgently, so we will try to make it happen. We sometimes expedite the shipping if we cannot honor same-day printing.

Free Art Inspections

A human artist reviews every single file before printing starts. If we notice any problems, a Printkeg representative will contact you via email with options how to move forward.
Why Should You Print With Us?
Guaranteed Happiness

Our primary goal is to make sure you are happy with your prints, The Printkeg Promise. This is our guarantee and commitment to serving artists across the nation. It doesn't help anyone if you purchase retail art you can't actually sell. We are here to ensure your success.

Dedicated to Artists

In our "About Us" area, you can view incredible photographs of the most recent Fine Arts Printing projects we've worked on. We geared our entire atmosphere, including the workforce and production facility, to serve retail artists first and foremost.

Fast Production Times

We contribute some of the fastest turnaround times for Art Prints in the Fine Arts Printing industry. You'll be impressed with our fast production times, rush turnaround options, and available expedited shipping methods.