Regular price
Sale price
$ 18.99
Unit price
per
Sale
Sold out
We've engineered our 5x7 flat cards and folded cards, particularly for custom holiday cards, greeting cards, party invites, Christmas cards, Hannakuh cards, and photo cards. Printkeg prints Glossy and Matte cards "full bleed" or "borderless," yet we will preserve margins if present within the original artwork. Graphic designers, parents, and business owners across the country take advantage of our amazingly cheap prices, rich print quality, and durable card selections each day.
More sizes are available in our invitations and notecards section.
Holiday Card Features
5x7 flat and folded options
Envelopes are optional
Nine holiday-oriented envelope colors
Holiday cards print full bleed and full color
Our staff helps with proper art setup
Colorful Envelopes Are Options
Ten smooth A7 envelope choices are available with our 5x7 folded cards:  Ivory White, Natural, Dark Red, Gamma Green, Blast-Off Blue, Eclipse Black, Lift-off Lemon, Pulsar Pink, Gravity Grape, and Grocer Kraft. Envelopes may appear slightly darker/lighter in person than you see on the screen. Sometimes we must make color variant substitutions due to supply shortages.  
Dark Red, Gamma Green, Blast-Off Blue, Eclipse Black, Lift-off Lemon, Pulsar Pink, and Gravity Grape are only available for 5x7 card sizes (A7).
Expedited Turnaround Times
2 or 3 business days for all quantities. 
Holiday Card Options
1 or 2 sides - Printing on the front and back is considered one side. Printing on the inside requires two-sided printing.
Flat or folded - A flat card is a simple 5x7 card. A folded card is actually a 10x7 card scored and folded in half.
Gloss or Matte - Gloss and matte cards have distinguished properties better described further down on this page.
Sizes - Our holiday cards are 5x7, but other sizes can be found in our invitation section.
Art Specifications for Printing Custom Holiday Cards
We made a list and checked it twice. If the following art guidelines seem like Yulish language, try not to let that stop you from ordering holiday cards this year. Our warm and delightful elves, or helpers, place love and care into all artwork before printing begins. A North Pole representative will reach out to you if we cannot resolve any challenges we discover./p>
Try to prepare your art files with 10.25" x 7.25" (spread) or 5.127" x 7.25" (individual sides) dimensions. Keeping valuable components at least 0.25 inches away from the four edges would be nice. It would be naughty to cram that information right on the edges.
Review your quality settings and ensure you work in a 300 dpi space. Sadly, many popular graphics apps default to a web-quality 72dpi (Adobe Photoshop) or a modest-quality 132dpi (Procreate). Raising the resolution settings to 300 dpi or higher before you start creating is a magical step in the right direction for quality.
You better watch out! We fancy PDF or JPG files. Our artists also accept other files such as PNG, EPS, and TIF. We do not open DOC, PUB, or PPT files. Thankfully, most Microsoft products allow you to export your file as a PDF.
You better watch out! Try visualizing your digital art in CMYK color mode. We convert all artwork for holiday cards to CMYK. Many designers accidentally work in RGB, but this color mode is primarily for digital media. You better not pout; I'm telling you why. The CMYK conversion can lead to softened colors or several color shifts. If this is your first time printing cards with us, we recommend ordering a PDF proof.
For goodness sake, you do not need to provide us with trim or crop marks along with your design. The elves will demand that you remove them before moving forward.
Holiday Card Templates
Use the below PDF template to place your art to understand bleed and trim areas better.
Digital Proofs Are Nice
Although we do not require digital proofs for most 5x7 print projects, our graphic team quickly inspects all files for quality purposes. If we see apparent problems (resolution, bleed, quality, etc.), we will email you a PDF demonstration beforehand, ensuring your prints look great at the end of the process. If you would like to see a PDF digital proof before printing, please indicate this in the "Messages / Deadlines" area.
A digital proof may delay an order by one business day.
Premium Card Choices
Gloss Card - Glossy cards showcase a light satin shine that is sleek and refined.

Matte Card - This smooth cardstock facilitates easy writing along with a classic character.

Textured Card is also available in our invitation section.
More Information
For a bit of inspiration, check out this article, "Funny Holiday Cards by Etsy Artists" located on our blog.
Don't wait too long to order holiday cards. UPS, USPS, and FedEx can sometimes face holdups and delays due to the time of year.
Please review our holiday schedule to understand when we may not be shipping print orders.
Holiday cards for families and businesses hold a special place in our hearts as cherished traditions. Sending holiday cards can foster a sense of connection and warmth, strengthening relationships in both personal and professional spheres. For families, holiday cards serve as an avenue to spread festive cheer and maintain connections with loved ones. These cards often feature personalized messages and photos, making them a sentimental keepsake for relatives. Moreover, they are an excellent way to showcase growing families, life milestones, and memorable moments throughout the year. Families can easily customize their cards with templates that include phrases like "custom family holiday cards" and "personalized holiday greetings," ensuring a heartfelt touch.
In business, holiday cards are crucial in strengthening client relationships and maintaining brand presence. Sending corporate holiday cards conveys appreciation and gratitude to valued clients and partners. It reinforces the image of a thoughtful and professional organization. Businesses can use keyword phrases such as "custom business holiday cards" and "corporate holiday greetings" to create cards that reflect their brand identity while spreading holiday cheer. Additionally, these cards provide an opportunity to showcase company achievements and milestones, reinforcing trust and loyalty among clients and stakeholders.
View full details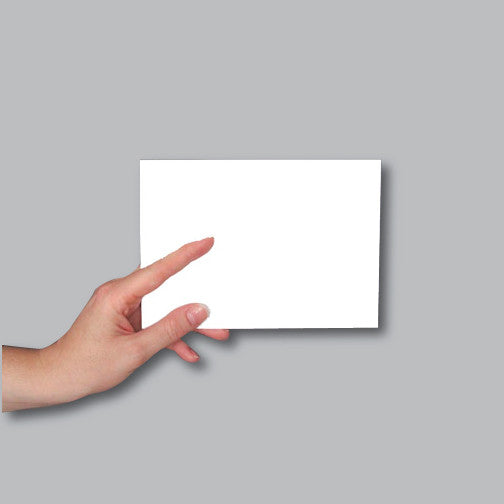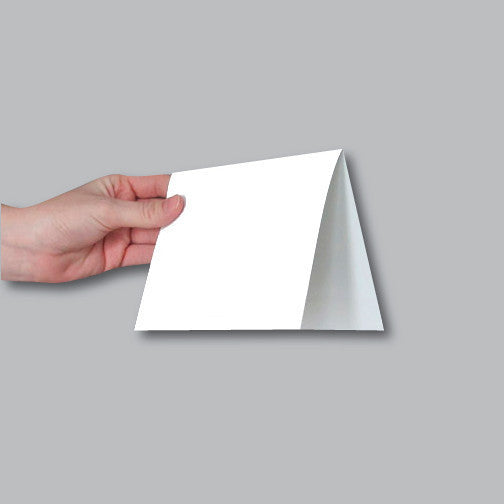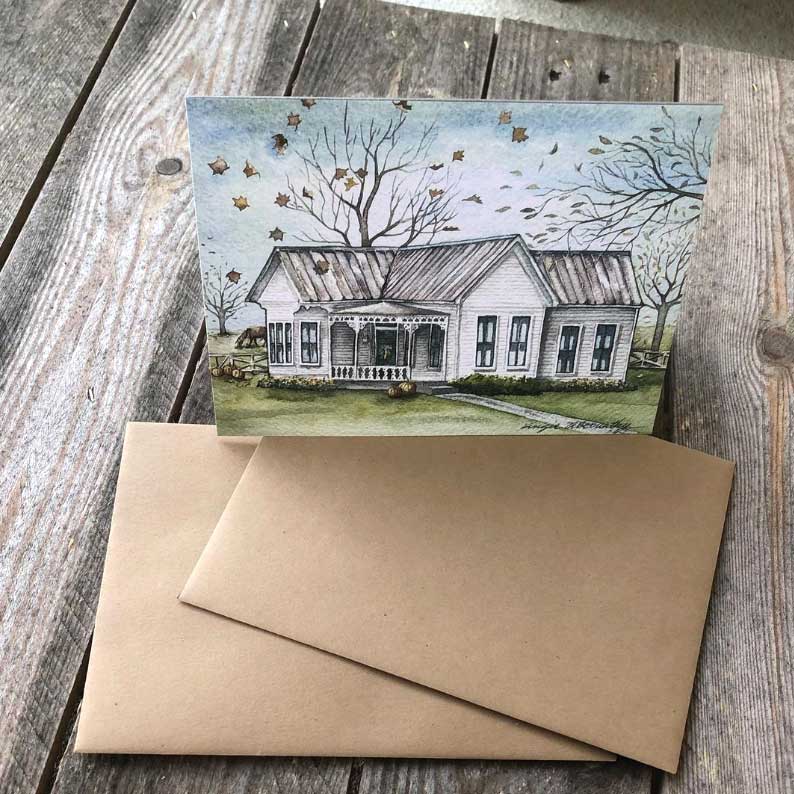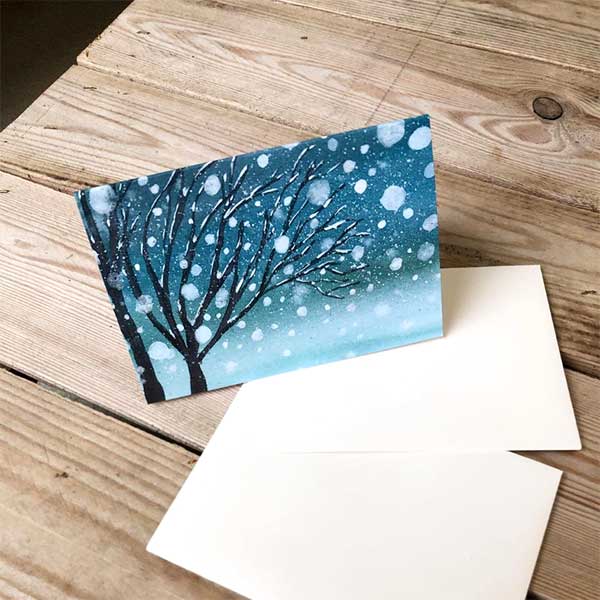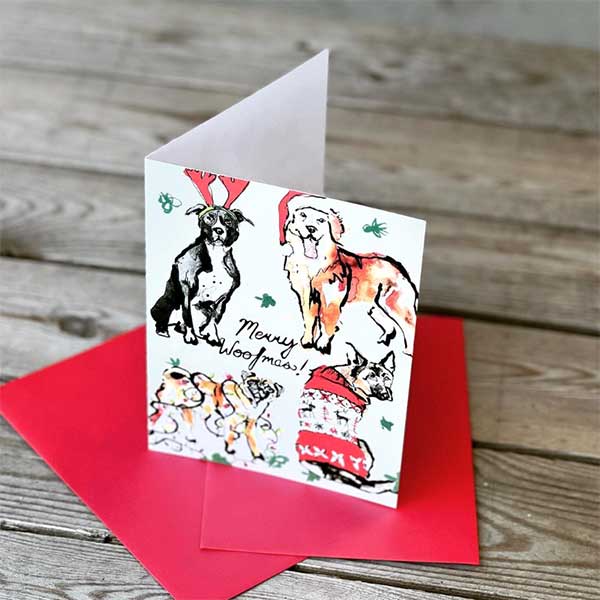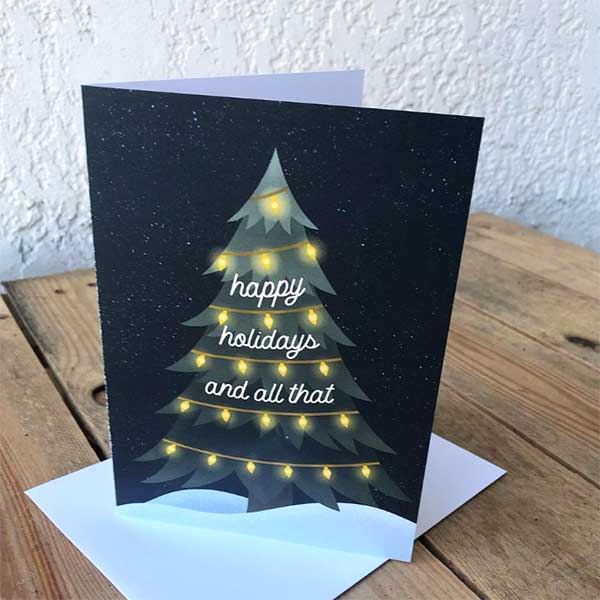 Specialty Options for Greeting Cards
Service Descriptions
Digital Proof

A Printkeg artist will prepare your greeting card artwork for printing and send you a visual in PDF format via email. This usually takes place within a few business hours. The image we email showcases trim location and CMYK colors.

Make Graphic Work

This $9 option informs our staff to move forward with quick fixes and tackle any possible obstacles. Benefits may include reviewing file dimensions, tackling border issues, and reworking challenging "bleed" areas. There is one goal in mind: to ensure perfect Art Prints.

Edit My Design

This option is inexpensive for hiring us to modify your image file. Our designers edit or place elements into your file, like text, images, etc. The most common use of this service is changing event dates, removing signatures, and swapping photos.

Create My Art

We hire a trusted graphic designer with whom we've worked closely to help you create a new design from scratch. Most communication is via email. Most designs are finished in only a few business days.

Rush Turnaround

Rush Turnaround speeds up your order time by one day. That could mean same-day printing. You need your prints urgently, so we will try to make it happen. We sometimes expedite the shipping if we cannot honor same-day printing.

Free Art Inspections

A human artist reviews every single file before printing starts. If we notice any problems, a Printkeg representative will contact you via email with options how to move forward.
Why Should You Print With Us?
Guaranteed Happiness

Our primary goal is to make sure you are happy with your prints, The Printkeg Promise. This is our guarantee and commitment to serving artists across the nation. It doesn't help anyone if you purchase retail art you can't actually sell. We are here to ensure your success.

Dedicated to Artists

In our "About Us" area, you can view incredible photographs of the most recent Fine Arts Printing projects we've worked on. We geared our entire atmosphere, including the workforce and production facility, to serve retail artists first and foremost.

Fast Production Times

We contribute some of the fastest turnaround times for Art Prints in the Fine Arts Printing industry. You'll be impressed with our fast production times, rush turnaround options, and available expedited shipping methods.