Regular price
Sale price
$ 162.99
Unit price
per
Sale
Sold out
In this rapidly evolving world of direct marketing strategies, Door Hangers are a tried-and-true way to reach customers in an old-fashioned way. Hanging company information where it counts most (on the customer's door) is an ideal way for local businesses to build brand awareness. Our custom printed door hangers are available on 16pt C2S durable paper stock. They are printable on both sides, which allows ample space for text and visuals, thus maximizing marketing impact with high efficiency.
Door Hanger Features
Eye-catching, full-color printing
Three popular sizes
Ultra-thick and stiff cardstock
Paper from sustainable sources
Turnaround Time for Door Hangers
Four business days not including shipping.
Don't Forget a Digital Proof
We will email you a digital proof to your account email so you can visualize the printable area and bleed edges. There is no extra cost for this service for door hangers.
Sending Us Your Door Hanger Art
If you are completely ready, please submit your artwork through the above form (20 MB or under). If the artwork is not ready or too large, you may email your design later to art@printkeg.com. Please place the order number in the subject line.
Important Art Tips For Better Doorhangers
Suppose the below tips confuse you as much as The Collatz Conjecture. Try not to allow that to frighten you from ordering door hangers today. Our specialists analyze all artwork before printing begins. If we can't settle any difficulties we encounter, a Printkeg agent will contact you by email.
Stay super focused on preserving valuable content by keeping those elements at least 0.25 inches away from the edges. Try to view the below templates to get a better idea of the dimensions and shape you are working on within your design program.
While creating a new design, make sure to operate in a 300dpi setting. Many graphics programs default to 72dpi (Adobe Photoshop) or 132dpi (Procreate). If you increase the quality level to 300dpi or higher before working, you take a fundamental step towards quality.
We recommend PDF or JPG file formats. However, our friendly artists will accept other file types like AI, BMP, PNG, PSD, and TIF.
We convert doorhanger files to CMYK before production begins. Many creators and illustrators inadvertently work in RGB, and the conversion process can lead to muted colors or unpredictable color shifts.
Templates for Doorhangers
Use the below template JPG files to help ensure your artwork fits properly.
3.5 x 8.5 door hanger template
4 x 7 door hanger template
4.25 x 11 door hanger template
Quick View for File Preparation
Resolution: 300dpi
Color Mode: CMYK (we convert it)
Bleed Area: .125"
File Types: PDF or JPG
Shipping Fast and Sage
We ship via UPS Ground for most door hanger deliveries - even if you pick USPS.
---
Custom Door Hanger FAQ
How strong are custom door hangers?
We print our custom door hangers on a firm 16-pt card, with a glossy front and glossy back (CS2).
Can I order custom sizes of door hangers?
Unfortunately, not. We currently offer 3 door hanger sizes: 3.5" x 8.5", 4" x 7", and 4.25" x 11".
Do you have a downloadable template that I can use?
Yes! The downloadable templates are available on this very product page for easy visualization.
How quickly can I receive my door hangers?
The production process takes about three or four days. Add the shipping transit time to that. All door hangers ship via UPS Ground.
---
View full details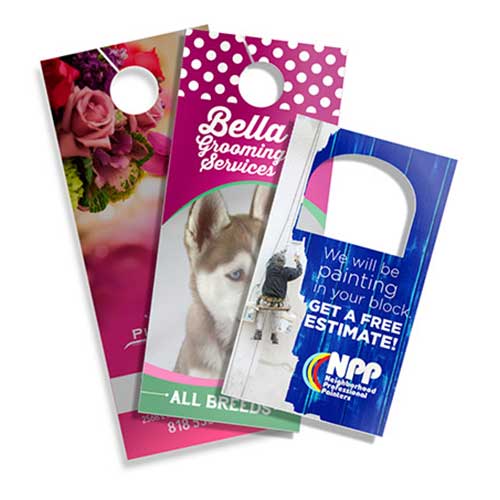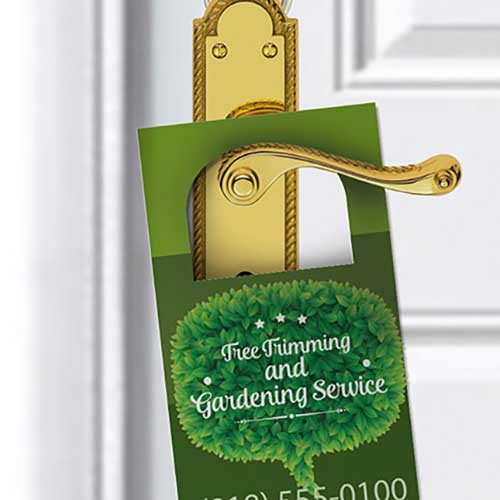 Service Descriptions
Digital Proof

A Printkeg artist will prepare your artwork for printing and send you a visual in PDF format via email. This usually takes place within a few business hours. The image we will email you showcases trim location and CMYK colors in a limited fashion.

Make Graphic Work

This $9 option informs our staff to move forward with quick fixes and tackle any possible obstacles. Benefits may include reviewing file dimensions, tackling border issues, and reworking challenging "bleed" areas. There is one goal in mind: to ensure perfect Art Prints.

Edit My Design

This option is inexpensive for hiring us to modify your image file. Our designers edit or place elements into your file, like text, images, etc. The most common use of this service is changing event dates, removing signatures, and swapping photos.

Create My Art

We hire a trusted graphic designer with whom we've worked closely to help you create a new design from scratch. Most communication is via email. Most designs are finished in only a few business days.

Rush Turnaround

Rush Turnaround speeds up your order time by one day. That could mean same-day printing. You need your prints urgently, so we will try to make it happen. We sometimes expedite the shipping if we cannot honor same-day printing.

Free Art Inspections

A human artist reviews every single file before printing starts. If we notice any problems, a Printkeg representative will contact you via email with options how to move forward.
Why Should You Print With Us?
Guaranteed Happiness

Our primary goal is to make sure you are happy with your prints, The Printkeg Promise. This is our guarantee and commitment to serving artists across the nation. It doesn't help anyone if you purchase retail art you can't actually sell. We are here to ensure your success.

Dedicated to Artists

In our "About Us" area, you can view incredible photographs of the most recent Fine Arts Printing projects we've worked on. We geared our entire atmosphere, including the workforce and production facility, to serve retail artists first and foremost.

Fast Production Times

We contribute some of the fastest turnaround times for Art Prints in the Fine Arts Printing industry. You'll be impressed with our fast production times, rush turnaround options, and available expedited shipping methods.