Regular price
Sale price
$ 29.99
Unit price
per
Sale
Sold out
Artists, illustrators, and graphic designers searching for custom 11x14 printing will love working with Printkeg since our prices are low, and the quality is superb. We've selected four distinct paper types, but matte stocks are the most popular for 11x14 custom printing. 11x14 is a universal print size for framing for home and office decor.
Features of 11x14 Custom Printing
Combination of four quality paper types engineered for marketing or artwork.
Incredible cheap prices allow more profit for artists or graphic designers reselling work.
11x14 custom prints are full bleed and full color
We review all artwork for common mistakes before printing
11x14 Custom Printing Paper Options
Gloss Paper (80# Text) – This light paper feels similar to any magazine's inner pages.
Matte Paper (70# Text) – Uncoated paper purposely lacks the same sheen as gloss paper.
Gloss Card (80# Cover) – Popular for flyers and brochures, our mid-tier glossy card stock hosts stylish colors.
Matte Card (70# Cover) – The smooth matte card is a classic uncoated alternative to gloss.
Need Thicker, Archival Options for Paper?
Thicker paper options are available for 11x14 custom printing. Those options are more suitable and impressive for retail art. Order from our 11x14 art prints page located in the fine arts collection.
About Digital Proofs
If a PDF digital proof is critical for your custom 11x14 print, please let us know in the "Instructions" area or select the "digital proof" option. We will promptly send a PDF file within six business hours. Our staff designers review all artwork for standard bleed, resolution, and size issues. If problems arise that we cannot quickly fix, we will email a PDF proof demonstrating those concerns. Our main goal is to ensure you are pleased with the final prints.
Digital proofs will alter turnaround by adding one extra day. Turnaround begins once the art is approved. A staff member will email the digital proof within 4 to 8 business hours.
Sending Your 11x14 Art To Us
You may upload your art now or later for convenience. If, for some reason, you cannot upload your file above, please email the file to art@printkeg.com. Please have the subject line state your order number to eliminate confusion. For larger files, feel free to use any third-party file storage company (such as WeTransfer, Dropbox, or Google Drive).
How To Protect the Quality of Custom 11x14 Printing
If the below suggestions seem Vulcan to you, don't let them discourage you from ordering. Our experts will walk you through the entire process if there are any quality concerns regarding your art file. Since we focus on retail printing for artists, we encourage you to submit the best files possible. 
Add an extra quarter-inch to your file size. Try to size your file with 11.25" x 14.25" dimensions. This additional space is called "the bleed area" and provides edge-to-edge 11" x 14" prints. Focus on protecting essential components by keeping those items at least 0.25 inches away from all edges.

When initially starting a digital design, scanning a physical print, or photographing a painting, ensure your final file will be 300dpi. 300dpi is the lowest setting considered high-quality printing in our industry. Many applications may export your art as a low-grade 72dpi or mid-quality 132dpi. Check the quality settings before you begin designing to prevent problems later.

We like PDF or JPG file formats. Our graphic specialists also accept other file types like PNG, AI, PSD, EPS, and TIF.

Try preparing or reviewing your digital art file in CMYK color mode. We convert custom prints to CMYK before printing commences. 11x14 prints on watercolor paper and photo paper are exceptions to this policy. Please consider ordering a PDF proof if this is your first time printing with our company. The proofing stage can help you visualize any wild color shifts that may occur during conversion.
The 11x14 Template Helps You Visualize Bleed Area.
Please review this downloadable PDF 11" x 14" template for assistance in visualizing bleed and trim areas. The template is 11.25" x 14.25" in size. You can submit it to us in portrait or landscape format.
Let's Talk About "Text" and "Cover" Papers.
"Text" papers are thin like the inner pages of a magazine, and "Cover" papers are thicker like...well...a cover of a magazine. With 11x14 custom printing, the two matte paper choices seem to be most preferred by many artists due to their more elegant appearance. All 11x14 printing is full-bleed, full color, and guaranteed by the Printkeg Promise, a 100% guarantee of maximizing happiness.
Reviews of our 11x14 Custom Printing 
"Always great service. I recommend PrintKEG for cheap posters, flyers, and business cards all the time. You provide good value, quality printing, and fast turnaround. Thanks!" - F. Schneider
"I was blown away - as a print director for many years, I was skeptical, but thought why not and gave you guys an order. To say you surpassed my highest expectations isn't just praise - it's the truth. Your job was clean, the cut perfect. The images are clear, and the turnaround was amazing. Thank you very much - you'll be hearing from me again!" - P. Scheu
Shipping 11x14 Prints to Your Door
After production, 11x14 custom prints are stacked, shipped flat, and shrink-wrapped within chipboard. They are also cushioned with thick bubble wrap and placed inside durable shipping boxes. It is irregular to receive a damaged package of 11x14 prints.
---
11x14 Custom Printing is Our Thing
Additional media available for 11x14 Custom Printing
The four papers on this page are the cheapest options. That isn't to say they are low quality, but rather, they serve different intentions. If you are searching for other media, you may want to start with 11x14 Art Prints. You will find three archival and distinguished papers specifically engineered for retail art there. Sheets of 17mil canvas and 19mil watercolor paper are available for 11x14 custom printing in our fine arts section.
---
View full details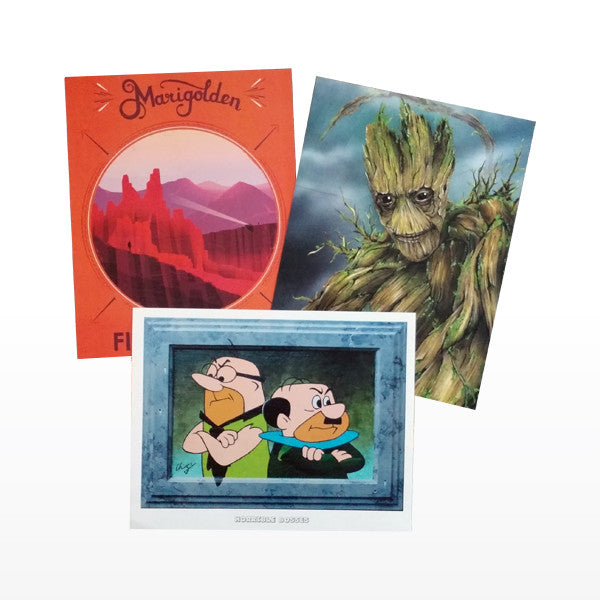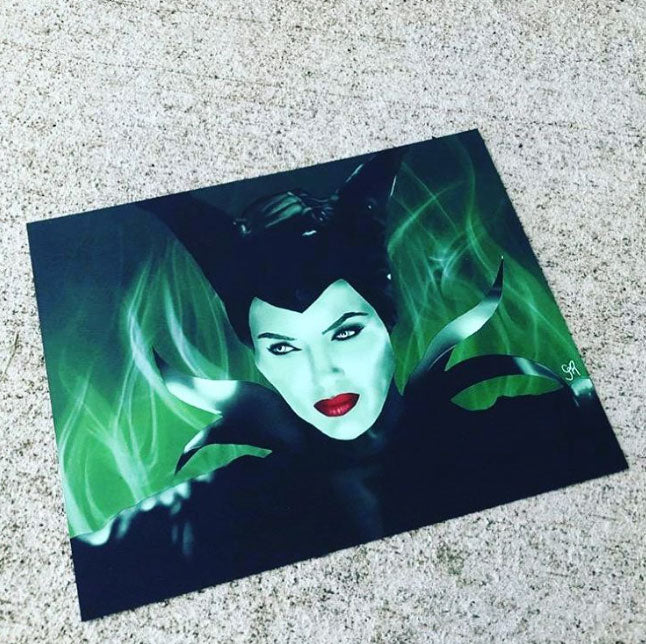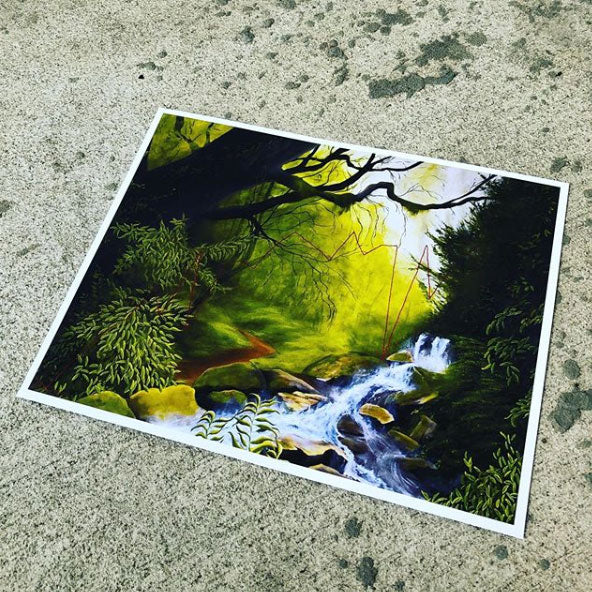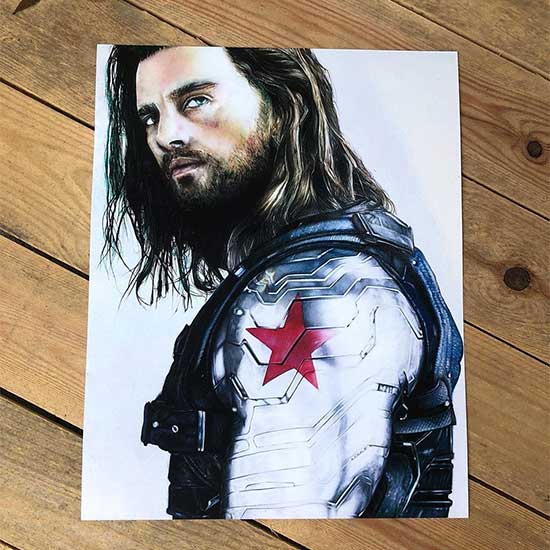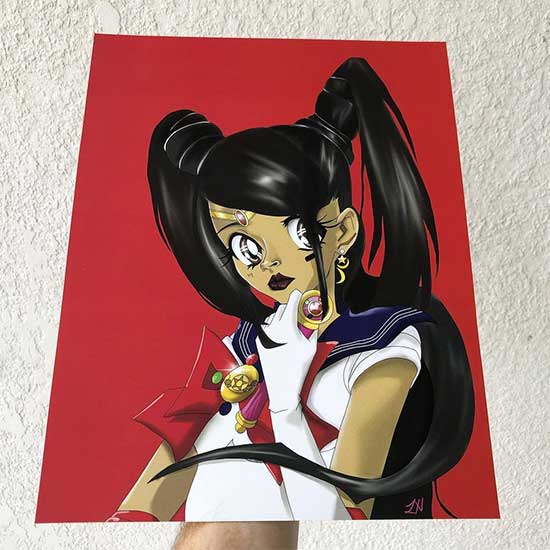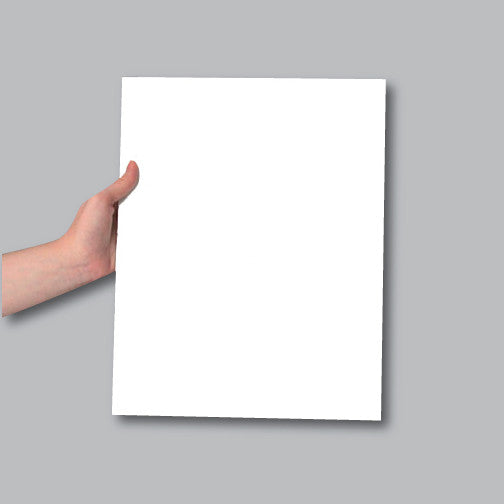 Economy Papers For Flyers
70# or 80# Text

Generally, people prefer thinner text papers as an affordable way to market events, light posters, leaflets, letterhead, advertisements, and any other situation where a budget is a primary concern.

70# or 80# Cover

Sometimes, handouts need to be thicker but not quite as durable as postcards. To grasp the thickness, think about the cover of a magazine. Sometimes, this stock can also provide welcome savings compared to other cover media.

Need Archival Media?

We offer heavier archival stocks for many sizes in our fine arts printing area. All media choices are intended for artists seeking long-lasting prints for retail environments. Thicker options also available in our postcards area.
Service Descriptions
Digital Proof

A Printkeg artist will prepare your artwork for printing and send you a visual in PDF format via email. This usually takes place within a few business hours. The image we will email you showcases trim location and CMYK colors in a limited fashion.

Make Graphic Work

This $9 option informs our staff to move forward with quick fixes and tackle any possible obstacles. Benefits may include reviewing file dimensions, tackling border issues, and reworking challenging "bleed" areas. There is one goal in mind: to ensure perfect Art Prints.

Edit My Design

This option is inexpensive for hiring us to modify your image file. Our designers edit or place elements into your file, like text, images, etc. The most common use of this service is changing event dates, removing signatures, and swapping photos.

Create My Art

We hire a trusted graphic designer with whom we've worked closely to help you create a new design from scratch. Most communication is via email. Most designs are finished in only a few business days.

Rush Turnaround

Rush Turnaround speeds up your order time by one day. That could mean same-day printing. You need your prints urgently, so we will try to make it happen. We sometimes expedite the shipping if we cannot honor same-day printing.

Free Art Inspections

A human artist reviews every single file before printing starts. If we notice any problems, a Printkeg representative will contact you via email with options how to move forward.
Why Should You Print With Us?
Guaranteed Happiness

Our primary goal is to make sure you are happy with your prints, The Printkeg Promise. This is our guarantee and commitment to serving artists across the nation. It doesn't help anyone if you purchase retail art you can't actually sell. We are here to ensure your success.

Dedicated to Artists

In our "About Us" area, you can view incredible photographs of the most recent Fine Arts Printing projects we've worked on. We geared our entire atmosphere, including the workforce and production facility, to serve retail artists first and foremost.

Fast Production Times

We contribute some of the fastest turnaround times for Art Prints in the Fine Arts Printing industry. You'll be impressed with our fast production times, rush turnaround options, and available expedited shipping methods.