Regular price
Sale price
$ 139.50
Unit price
per
Sale
Sold out
Each custom printed round button includes an attached locking safety pin. Traditional promo buttons are popular marketing tools to deliver a compelling message. We print these "badges" in full color on a durable aluminum material with low minimum quantities. Create a custom message, add artwork, or include a logo and a phone number. Buttons are perfect as giveaways at trade shows for all industries from travel and transportation to schools and universities, and, our favorite, comic cons.
Custom round buttons can only be single-sided.
Button Sizes
Custom buttons are currently available in four circular sizes:
We also welcome quotes for 2" x 2" diamond shape, 2" x 2" squares, 2" x 3" rectangles, and 2.5" x 3.5" rectangles. Quantities available are typically 100, 250, 500, or 1000.
Turnaround Time for Buttons
Two to four business days. Rush turnaround is not available. If you have an upcoming deadline, please contact our customer support for assistance. 
Art Guidelines For Printing Round Buttons
If specific guidelines for printing custom round buttons look Kryptonian to you, don't let them intimidate you from ordering. Our team reviews and modifies art to ensure your buttons look amazing! We will communicate with you before production begins if we can't work around barriers quickly.
Add a quarter-inch to your art. For instance, you should submit a 2.25" x 2.25" graphic for a 2" x 2" round button. Keep the critical components at least .25" away from the edges.
While starting a new button design, double-check that you are working in a 300dpi or 600dpi environment. Sadly, many applications default at 72dpi (Photoshop) and 132dpi (Procreate). Adjust the quality setting to 300dpi or higher.
We prefer PDF and JPG formats. However, we welcome other files types such as PNG and TIF. The most important standard for quality is resolution.
Try operating in CMYK color mode. For customized buttons, we convert all artwork to CMYK before production begins. Converting RGB to CMYK can lead to softened colors and undesired color changes. Operating in CMYK color mode grants you a closer representation of your final prints. You may want to consider ordering a PDF proof if you cannot work in CMYK.
More Information About Custom Buttons
Custom round buttons are well-liked promotional items for political campaigns, bands, fan artists, and small businesses. They are the perfect "miniature billboard" built with quality materials for a high-impact product. Consider them as collectibles, hand them out to trade show participants, sell them at festivals, or give them to convention exhibitors. 
---
Give Your Custom Buttons Away
People love free stuff. One great way to generate brand loyalty and build awareness is by giving away promotional custom round buttons at your next trade show or convention. They are robust and handy marketing tools that delight customers and generate prospects.
---
View full details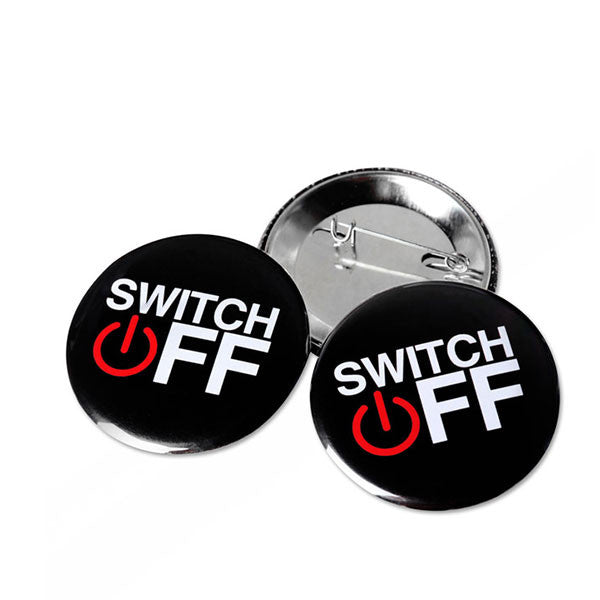 Service Descriptions
Digital Proof

A Printkeg artist will prepare your artwork for printing and send you a visual in PDF format via email. This usually takes place within a few business hours. The image we will email you showcases trim location and CMYK colors in a limited fashion.

Make Graphic Work

This $9 option informs our staff to move forward with quick fixes and tackle any possible obstacles. Benefits may include reviewing file dimensions, tackling border issues, and reworking challenging "bleed" areas. There is one goal in mind: to ensure perfect Art Prints.

Edit My Design

This option is inexpensive for hiring us to modify your image file. Our designers edit or place elements into your file, like text, images, etc. The most common use of this service is changing event dates, removing signatures, and swapping photos.

Create My Art

We hire a trusted graphic designer with whom we've worked closely to help you create a new design from scratch. Most communication is via email. Most designs are finished in only a few business days.

Rush Turnaround

Rush Turnaround speeds up your order time by one day. That could mean same-day printing. You need your prints urgently, so we will try to make it happen. We sometimes expedite the shipping if we cannot honor same-day printing.

Free Art Inspections

A human artist reviews every single file before printing starts. If we notice any problems, a Printkeg representative will contact you via email with options how to move forward.
Why Should You Print With Us?
Guaranteed Happiness

Our primary goal is to make sure you are happy with your prints, The Printkeg Promise. This is our guarantee and commitment to serving artists across the nation. It doesn't help anyone if you purchase retail art you can't actually sell. We are here to ensure your success.

Dedicated to Artists

In our "About Us" area, you can view incredible photographs of the most recent Fine Arts Printing projects we've worked on. We geared our entire atmosphere, including the workforce and production facility, to serve retail artists first and foremost.

Fast Production Times

We contribute some of the fastest turnaround times for Art Prints in the Fine Arts Printing industry. You'll be impressed with our fast production times, rush turnaround options, and available expedited shipping methods.