Regular price
Sale price
$ 16.99
Unit price
per
Sale
Sold out
Musicians mostly use 4.75x4.75 square flyers as CD inserts, but we've seen other creative uses as well. They are incredibly cheap and can print on one of four premium paper types. We prefer to print CD inserts on card stock, but the lower-cost papers are hard to ignore.
Features of CD Inserts and Covers 
Four premium paper choices
Order as little as 25 inserts
Single or double-sided printing
Our staff inspects all CD insert art for quality purposes
We automatically adjust small problems when possible 
Four Convenient Paper Types
Gloss Paper (80# Text) – This lightweight paper stock feels similar to the typical magazine's inner pages.

Matte Paper (70# Text)

 

– Uncoated paper is excellent when the gloss paper's shine is undesired. 

Gloss Card (80# Cover) – Popular for postcards and artwork, our durable and glossy card stock hosts rich colors. 

Matte Card (70# Cover) – Matte card is an elegant and uncoated alternative to gloss.
Quick Paper Tip
The term "text" is an indication of lightweight paper. Furthermore, "cover" papers are heavier and more appropriate for postcards and artwork.
Turnaround Time Is Fast (Business Days)
25 to 500 - 2 days
Over 500 covers - 3 days
Digital Proofs May Help
Unless noted in the messages field, we only email digital proofs when we spot problems with artwork. Suppose there are issues concerning bleed, resolution, and size. In that case, we will email a PDF proof displaying our concerns (generally within 4-6 business hours). Otherwise, artwork moves straight to production. We scrutinize all artwork before printing to ensure 100% customer satisfaction. We're more than happy to provide a digital sample upon request for $5.
Digital proofs will alter turnaround by adding one extra day (not including approval time).
Learn How To Send Us Your Art
For maximum accessibility, upload your artwork above. If you prefer, you may also email us your file to art@printkeg.com with the order number as the subject line. If your art is too large for email, please send us your art using any third-party file storage company such as Google Drive, WeTransfer, or Box.
Art Specifications for CD Inserts and Covers
If the below suggestions seem like Valyrian to you, try not to let the points dissuade you from obtaining CD inserts. Our experts work closely with you if any quality concerns arise from your files. We are here to help every step of the way.
Be sure to add a quarter-inch to your file size by making the dimensions 5" x 5" not 4.75" x 4.75". This extended area is called the "bleed area" and provides edge-to-edge 11" x 17" prints. Keep those items at least 0.25 inches away from all four edges to preserve critical text and imagery.
When starting any new CD cover or CD insert design, make sure your final file will be 300dpi. 300dpi is the bottom setting considered high-quality printing in our industry. Many applications may export your art as a low 72dpi (Photoshop) or mid-quality 132dpi (Procreate) if you're not careful. The pixel range for your 5" x 5" should be 1500 x 1500. Remember, the final size will be a 4.75" x 4.75" CD insert.
We prefer PDF or JPG file formats. Our specialists support other classic file types such as PNG, EPS, and TIF. We do not accept PUB, PPT, or DOC files.
Try designing or viewing your digital art in CMYK color mode. We convert most CD insert artwork to CMYK before printing begins. If this is your first time working with our print company, please consider ordering a PDF proof.
Try Using Our 4.75" x 4.75" Template
Are you designing in Adobe Photoshop or Illustrator? If so, download the below template. To help set up your 4.75" x 4.75" CD Inserts, we offer the below PDF template to place your art. Please note that the template file is 5" x 5", making room for the trim area.
More Information About Custom CD Inserts and CD Covers
Square 4.75 x 4.75 cards are popular among musicians, promoters, and artists since they commonly implement CD Inserts and CD Covers.
CD Insert Reviews
"Our CDs look retail-ready and we'll be using PrintKeg for all our printing needs. Thank You" - Scott
"Overall, we were extremely pleased with your quality and speed of service." - Thomas
Shipping CD Inserts To Your Door
We calculate transportation fees during the checkout process. We will also present a variety of shipping options. We usually utilize USPS for all 4.75" x 4.75" CD inserts and CD cover deliveries due to their lightweight nature.
---
Printing CD Inserts FAQ
How do I print CD inserts?
Printing CD inserts is easy. Once you have made a design in software like Adobe Indesign or Photoshop, you can submit it during your order. If there are bleed or quality concerns, we will contact you. Be sure to work at 300dpi.
What paper should I use for CD inserts?
The thinner and thicker paper options all look great. It is a matter of preference. Most people prefer card stocks. If your inserts are double-sided, stick with card (or cover) media.
What size should my CD insert art be?
The final print size is 4.75" x 4.75", so your artwork should be 5" x 5" to provide us with a trimming area. That translates to 1500px x 1500px as the minimum. Anything larger is acceptable as well. Remember to keep critical components 0.25 inches away from the edges.
---
View full details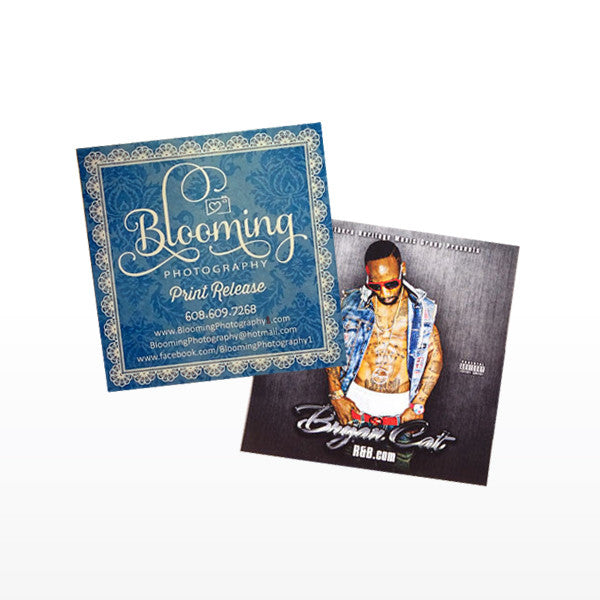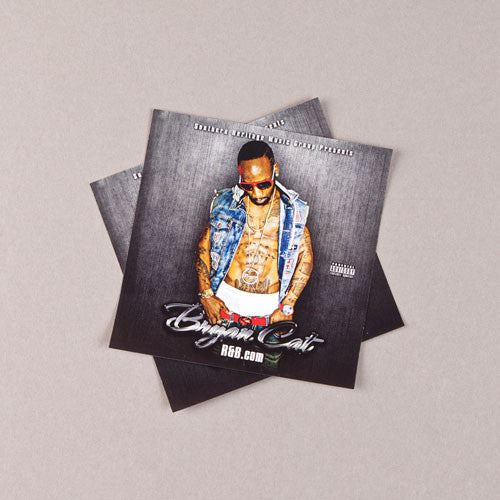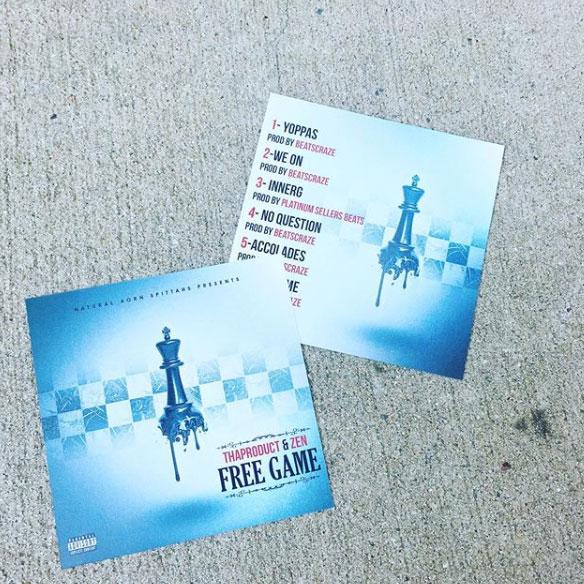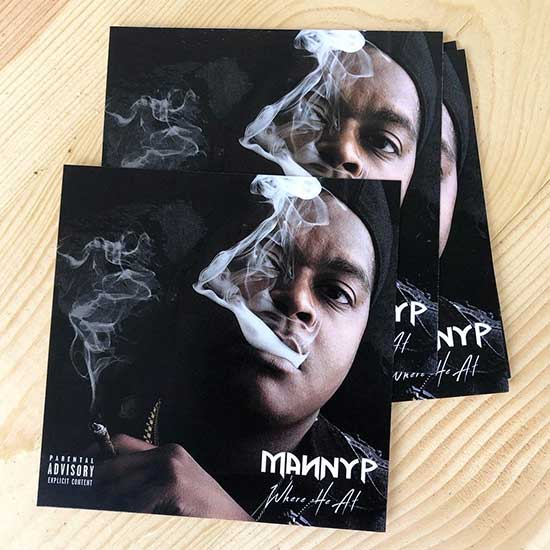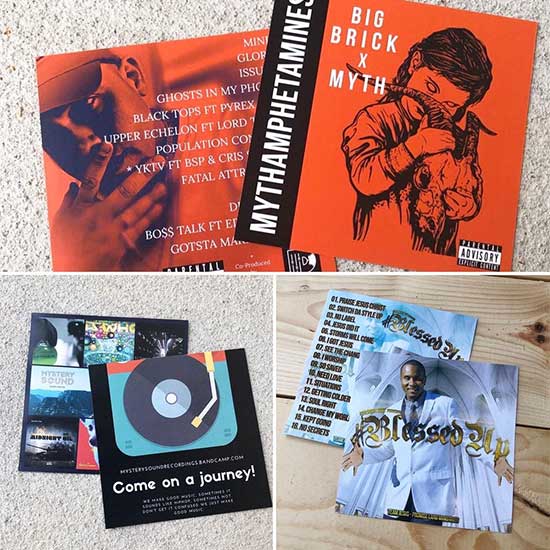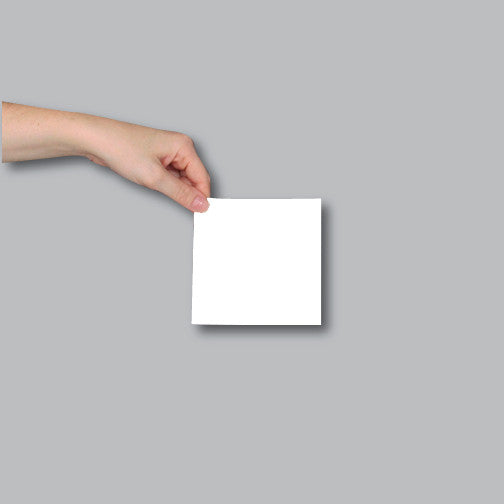 Economy Papers For Flyers
70# or 80# Text

Generally, people prefer thinner text papers as an affordable way to market events, light posters, leaflets, letterhead, advertisements, and any other situation where a budget is a primary concern.

70# or 80# Cover

Sometimes, handouts need to be thicker but not quite as durable as postcards. To grasp the thickness, think about the cover of a magazine. Sometimes, this stock can also provide welcome savings compared to other cover media.

Need Archival Media?

We offer heavier archival stocks for many sizes in our fine arts printing area. All media choices are intended for artists seeking long-lasting prints for retail environments. Thicker options also available in our postcards area.
Service Descriptions
Digital Proof

A Printkeg artist will prepare your artwork for printing and send you a visual in PDF format via email. This usually takes place within a few business hours. The image we will email you showcases trim location and CMYK colors in a limited fashion.

Make Graphic Work

This $9 option informs our staff to move forward with quick fixes and tackle any possible obstacles. Benefits may include reviewing file dimensions, tackling border issues, and reworking challenging "bleed" areas. There is one goal in mind: to ensure perfect Art Prints.

Edit My Design

This option is inexpensive for hiring us to modify your image file. Our designers edit or place elements into your file, like text, images, etc. The most common use of this service is changing event dates, removing signatures, and swapping photos.

Create My Art

We hire a trusted graphic designer with whom we've worked closely to help you create a new design from scratch. Most communication is via email. Most designs are finished in only a few business days.

Rush Turnaround

Rush Turnaround speeds up your order time by one day. That could mean same-day printing. You need your prints urgently, so we will try to make it happen. We sometimes expedite the shipping if we cannot honor same-day printing.

Free Art Inspections

A human artist reviews every single file before printing starts. If we notice any problems, a Printkeg representative will contact you via email with options how to move forward.
Why Should You Print With Us?
Guaranteed Happiness

Our primary goal is to make sure you are happy with your prints, The Printkeg Promise. This is our guarantee and commitment to serving artists across the nation. It doesn't help anyone if you purchase retail art you can't actually sell. We are here to ensure your success.

Dedicated to Artists

In our "About Us" area, you can view incredible photographs of the most recent Fine Arts Printing projects we've worked on. We geared our entire atmosphere, including the workforce and production facility, to serve retail artists first and foremost.

Fast Production Times

We contribute some of the fastest turnaround times for Art Prints in the Fine Arts Printing industry. You'll be impressed with our fast production times, rush turnaround options, and available expedited shipping methods.