Regular price
Sale price
$ 101.99
Unit price
per
Sale
Sold out
Our cheap custom bumper stickers come in three standards, and quite popular sizes that are essentially rectangle-shaped decals (3x10, 4x8, and 4x12) with a laminate added for extra protection. These vinyl strips of goodness are weather-resistant, color exquisite, and totally custom. Through the years, bumper stickers have proved themselves as a valuable and highly effective advertising medium allowing loyal customers to boost a business's brand. There are very few other outdoor advertising methods that can reach the same level of audience exposure.
Bumper Sticker Features
Full color, high-quality vinyl
Small quantities (small runs) welcome
We check your art for quality purposes
Bumper stickers are weather-resistant
About the Media
Our staff prints bumper stickers on 4mil premium white flexible vinyl film coated with acrylic adhesive laminated to a 90# layflat liner. The liner adheres easily to most bumpers and is capable of withstanding a variety of environmental conditions.
Turnaround (5 - 7 Business Days)
Turnaround times for decals and stickers are approximately 5 to 7 business days. If you have other print items in your cart with less turnaround time, they will ship along with the bumper stickers. 
Digital Proofs
By default, we only provide a digital PDF proof in cases where we see art issues, or if we have questions. Feel free to request a visual if you absolutely require it. We double-check all artwork before printing to help ensure your 100% satisfaction.
Bumper Sticker Templates
If you utilize a program such as Adobe Photoshop or Illustrator, you may find these templates helpful by pasting your artwork into the canvas area. As long as you keep important text 0.25 inches away from the edges, you should be fine.
8x4 bumper sticker
10x3 bumper sticker
12x4 bumper sticker
Print Reviews
"Just got our stickers in, via printkeg.com they are awesome!"
- C. Ann
"Grail to the Thief bumper stickers are here. Thanks, @printkeg!"
- @forallplay
More Information About Bumper Stickers
Engineered for outdoor use, our bumper stickers adhere easily to bumpers and have the strength to withstand a variety of environmental conditions. Intended for use on car bumpers, motorcycles, suitcases, bicycles and so much more. So go ahead and hit the streets with your brand, full speed ahead!
---
Printing Bumper Stickers FAQ
Are custom sizes available for printing bumper stickers?
If you would like a different size for your bumper stickers, please get in touch with us. Bumper stickers are weatherproof like our vinyl stickers, and they also include a layer of thin UV laminate to protect them from the harsh elements further. We do not recommend ordering a rectangle sticker instead - you can, and it will probably be fine - but we like the extra laminate.
Do bumper stickers include UV coating?
Yes. Custom bumper stickers are varnished with a UV laminate, adding an extra layer of protection from the weather. More importantly, it fights against fading by the sun.
Can bumper stickers ruin my car?
No - especially if you remove the stickers carefully and adequately.
Can you get pulled over for a bumper sticker?
We recommend that you check your state government bylaws regarding bumper stickers. If your bumper stickers are not blocking light signals or license plate numbers, you should be good to go.
Are the bumper stickers removable and reusable?
No. Bumper stickers use a permanent adhesive and cannot be removed or reused without the risk of corrupting the surface or the sticker itself. If you require a repositionable sticker, try one of our vinyl stickers instead.
---
View full details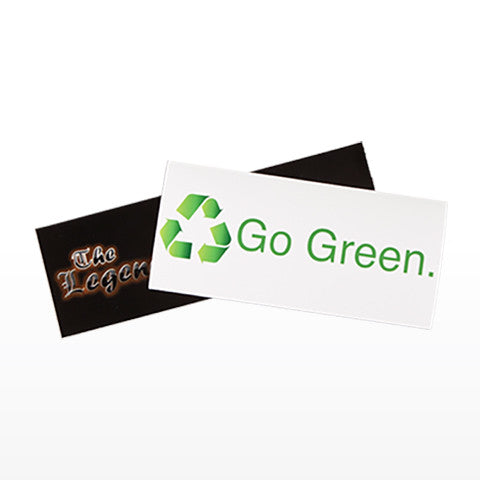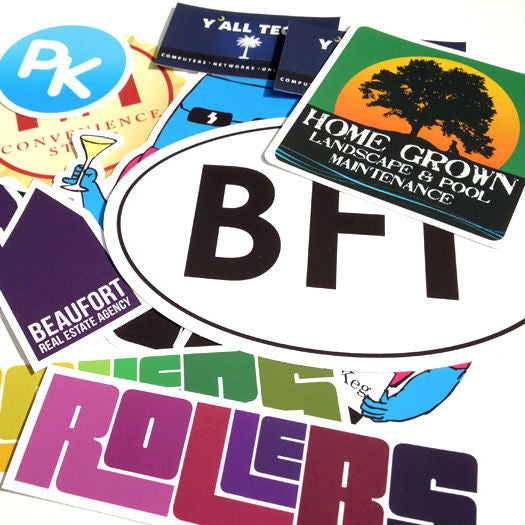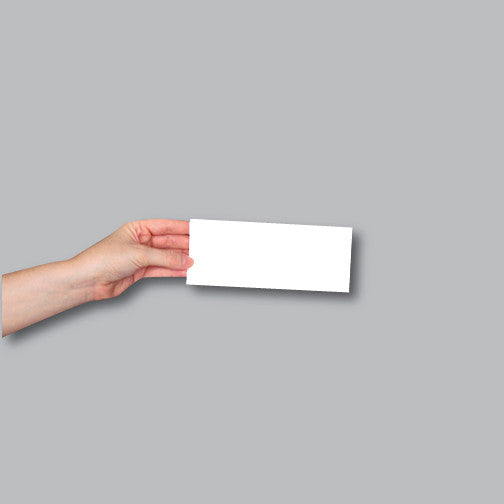 Service Descriptions
Digital Proof

A Printkeg artist will prepare your artwork for printing and send you a visual in PDF format via email. This usually takes place within a few business hours. The image we will email you showcases trim location and CMYK colors in a limited fashion.

Make Graphic Work

This $9 option informs our staff to move forward with quick fixes and tackle any possible obstacles. Benefits may include reviewing file dimensions, tackling border issues, and reworking challenging "bleed" areas. There is one goal in mind: to ensure perfect Art Prints.

Edit My Design

This option is inexpensive for hiring us to modify your image file. Our designers edit or place elements into your file, like text, images, etc. The most common use of this service is changing event dates, removing signatures, and swapping photos.

Create My Art

We hire a trusted graphic designer with whom we've worked closely to help you create a new design from scratch. Most communication is via email. Most designs are finished in only a few business days.

Rush Turnaround

Rush Turnaround speeds up your order time by one day. That could mean same-day printing. You need your prints urgently, so we will try to make it happen. We sometimes expedite the shipping if we cannot honor same-day printing.

Free Art Inspections

A human artist reviews every single file before printing starts. If we notice any problems, a Printkeg representative will contact you via email with options how to move forward.
Why Should You Print With Us?
Guaranteed Happiness

Our primary goal is to make sure you are happy with your prints, The Printkeg Promise. This is our guarantee and commitment to serving artists across the nation. It doesn't help anyone if you purchase retail art you can't actually sell. We are here to ensure your success.

Dedicated to Artists

In our "About Us" area, you can view incredible photographs of the most recent Fine Arts Printing projects we've worked on. We geared our entire atmosphere, including the workforce and production facility, to serve retail artists first and foremost.

Fast Production Times

We contribute some of the fastest turnaround times for Art Prints in the Fine Arts Printing industry. You'll be impressed with our fast production times, rush turnaround options, and available expedited shipping methods.