Regular price
Sale price
$ 34.99
Unit price
per
Sale
Sold out
Graphics artists design medium "half-page" sized 5.5x8.5 postcards or flyers for mailings, framed artwork, handouts, inserts, brochures, and much more. Many real estate companies, small businesses, and office managers also incorporate this versatile size for various marketing solutions.
Higher quantities of 5.5 x 8.5 cards (2500+) are available that are cost-effective and UV coated.
Features and Benefits
Two convenient card options (gloss and matte)
Two cheaper and thinner paper options
5.5x8.5 cards are versatile in usefulness
We carefully check artwork before printing 
Printkeg designers automatically adjust small art issues
Two Papers for Marketing, Two Papers for Art.

Gloss Paper (80# Text) – This lightweight paper stock feels similar to the inner pages of the typical magazine. Not archival.
Matte Paper (70# Text) – Uncoated paper is excellent when the shine of gloss paper is undesired. Not archival.
Gloss Card (110# Cover) – Popular for postcards and artwork, our heavy and glossy card stock hosts rich colors. Archival.
Matte Card (100# Cover) – An artist favorite, the matte card is an elegant and uncoated alternative to gloss. Archival.
Paper Tip
The term "text" is an indication of lightweight paper and is generally used for cheap flyers. Furthermore, "cover" papers are heavier and more appropriate for postcards and artwork.
Turnaround Times Are Fast (Business Days)
25 to 1000 - 2 days
1250 and up - 3 days
Rush turnaround for 5.5x8.5 cards is available in the "Design / Rush" option list. Rush orders are usually shipped one day early. Please let us know if you have a deadline. 
Digital Proofs for 5.5 x 8.5 Cards and Flyers
By default, we now only email digital proofs if we notice problems with artwork. If there are issues concerning bleed, resolution, and size, we will contact you and email a PDF proof showing our concerns (frequently within 4 to 6 business hours). Otherwise, your artwork will move straight to production. We check and observe all artwork before printing to ensure your 100% satisfaction.
Upon request, we are happy to provide proofing - leave us a note in the messages area or contact us. Digital proofs will alter turnaround by adding one extra day (not including approval time). Turnaround time begins once the art is approved.
Commit to Quality With These Art Specs For 5.5 x 8.5 Cards
If any of the following terms seem like a foreign language to you, don't let that frighten you from ordering 5.5" x 8.5" postcards and flyers. Our specialists scrutinize all artwork before production begins. If we cannot resolve the problems we confront, one of our graphics specialists will contact you.
Make sure to adjust your new file with 5.75" x 8.75" dimensions. Stay focused on keeping precious content at least 0.25 inches away from the edges. The pixel count for your artwork should be at least 1725 x 2625.
Next, while starting a new design, check if you are working in a 300dpi setting. Many graphics apps default to an unprintable 72dpi (Adobe Photoshop) or low 132dpi (Procreate). Boosting the quality setting to 300dpi or higher before you begin working is essential.
We recommend PDF or JPG file formats. Nevertheless, our internal artists accept other file types such as PNG and TIF.
Try making your digital art while in CMYK color mode. For 5.5" x 8.5" cards, we convert files to CMYK before printing begins. Many artists incidentally operate in RGB, a color mode intended for digital media. The CMYK conversion can lead to softened colors or undesired color shifts.
This 5.5 x 8.5 Template May Help With Setup
To help you visualize bleed areas for 5.5" x 8.5" postcards, we provide a PDF template to place art. Please note that the file is 5.75" x 8.75".
5.5 x 8.5 template (horizontal/landscape)
5.5 x 8.5 template (vertical/portrait)
More Information About 5.5 x 8.5 Cards/Flyers
Half the size of a standard 8.5x11 sheet, 5.5x8.5 postcards are effectively utilized by businesses, entrepreneurs, and artists since they are cheaper alternatives to full sheets and are more versatile. They can be flyers, cards, hand-outs, slip-ins, and mailers, allowing for multi-purpose possibilities. 
Customer Reviews are Positive
"I'm an artist and illustrator so the color, clarity, and quality are really important to me. These postcards are perfect. Every detail. The card stock, the printing, the color. I am speechless. Thank you for providing this high-quality service at such amazing prices. AND on top of that, making the customer service experience one I'll remember because of how easily you helped me out. Many, many, many thanks. I will be back time and time again and tell everyone which online printer to use. BIG high fives." - J. Miller
"I am so happy with my prints! Seriously, the whole experience could not have been better. I received my prints fast, I was notified right away of potential issues with the files that I uploaded, great communication, and awesome quality. So happy. Thanks so much, everyone, you work hard and it shows. :)" - Aryanna
Shipping Your 5.5 x 8.5 Postcards and Flyers Safely and Quickly
We configure shipping fees during the checkout process. You can select from a list of UPS and USPS methods for most postcards and flyer deliveries. Cards and flyers are shrink-wrapped in stacks and surrounded by bubble wrap inside a durable shipping box resulting in safe transportation (99% of the time). We also add chipboard to 5.5x8.5 paper flyer stacks for extra protection.
Looking For Textured Paper?
This page does not offer a textured card stock option for 5.5x8.5 cards and flyers. Don't worry; there is a workaround. Try ordering from our 6x9 Postcard page and let us know you would like 5.5x8.5 in the instructions area.
View full details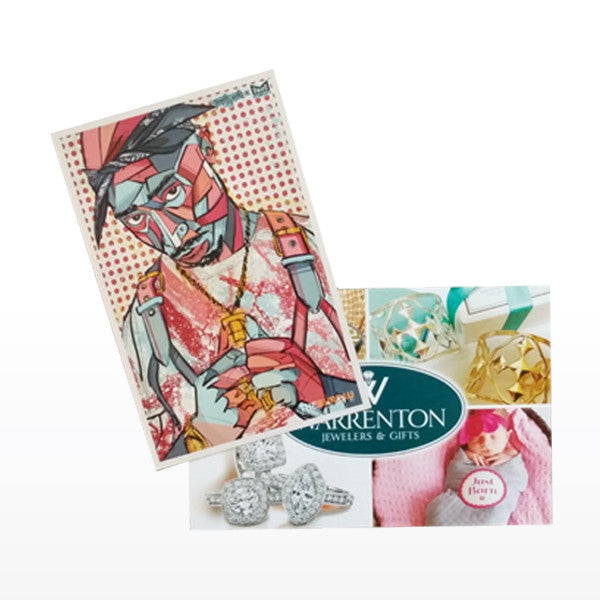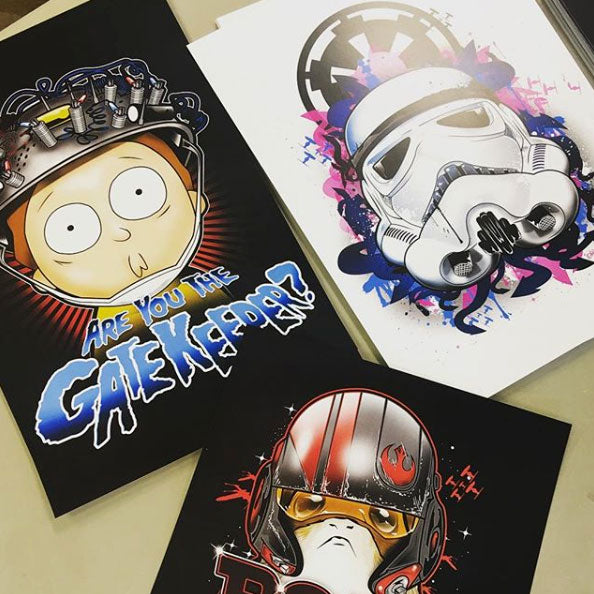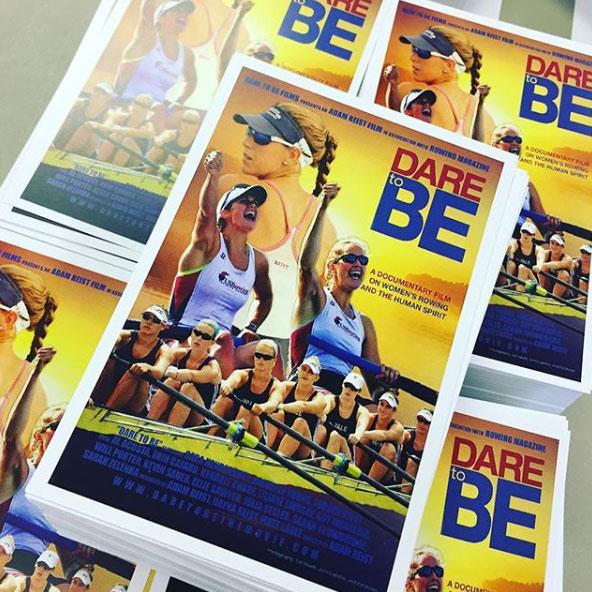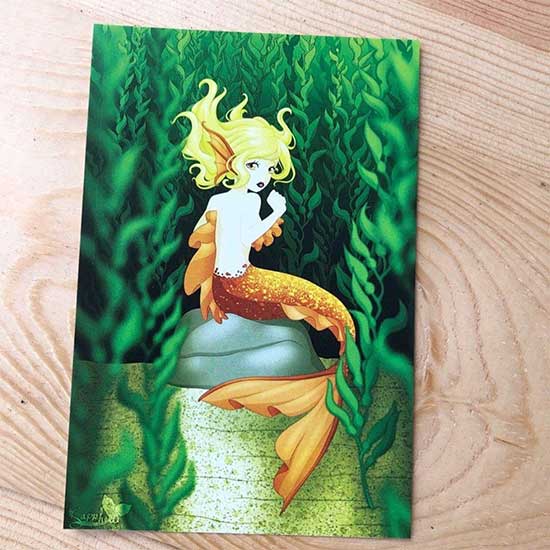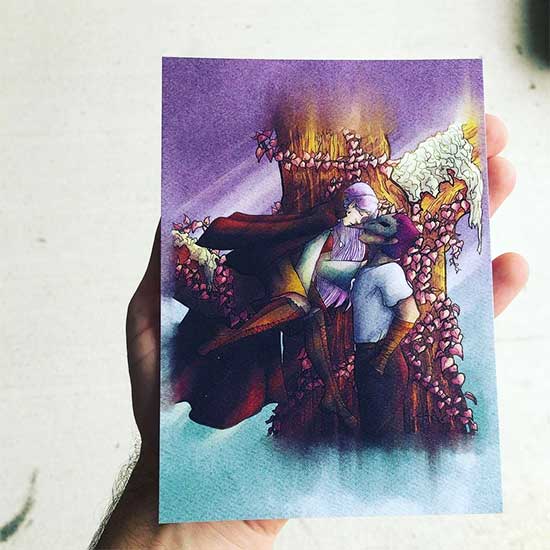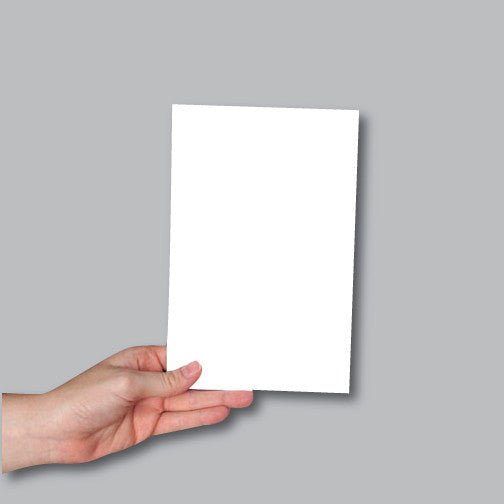 Economy Papers For Flyers
70# or 80# Text

Generally, people prefer thinner text papers as an affordable way to market events, light posters, leaflets, letterhead, advertisements, and any other situation where a budget is a primary concern.

70# or 80# Cover

Sometimes, handouts need to be thicker but not quite as durable as postcards. To grasp the thickness, think about the cover of a magazine. Sometimes, this stock can also provide welcome savings compared to other cover media.

Need Archival Media?

We offer heavier archival stocks for many sizes in our fine arts printing area. All media choices are intended for artists seeking long-lasting prints for retail environments. Thicker options also available in our postcards area.
Service Descriptions
Digital Proof

A Printkeg artist will prepare your artwork for printing and send you a visual in PDF format via email. This usually takes place within a few business hours. The image we will email you showcases trim location and CMYK colors in a limited fashion.

Make Graphic Work

This $9 option informs our staff to move forward with quick fixes and tackle any possible obstacles. Benefits may include reviewing file dimensions, tackling border issues, and reworking challenging "bleed" areas. There is one goal in mind: to ensure perfect Art Prints.

Edit My Design

This option is inexpensive for hiring us to modify your image file. Our designers edit or place elements into your file, like text, images, etc. The most common use of this service is changing event dates, removing signatures, and swapping photos.

Create My Art

We hire a trusted graphic designer with whom we've worked closely to help you create a new design from scratch. Most communication is via email. Most designs are finished in only a few business days.

Rush Turnaround

Rush Turnaround speeds up your order time by one day. That could mean same-day printing. You need your prints urgently, so we will try to make it happen. We sometimes expedite the shipping if we cannot honor same-day printing.

Free Art Inspections

A human artist reviews every single file before printing starts. If we notice any problems, a Printkeg representative will contact you via email with options how to move forward.
Why Should You Print With Us?
Guaranteed Happiness

Our primary goal is to make sure you are happy with your prints, The Printkeg Promise. This is our guarantee and commitment to serving artists across the nation. It doesn't help anyone if you purchase retail art you can't actually sell. We are here to ensure your success.

Dedicated to Artists

In our "About Us" area, you can view incredible photographs of the most recent Fine Arts Printing projects we've worked on. We geared our entire atmosphere, including the workforce and production facility, to serve retail artists first and foremost.

Fast Production Times

We contribute some of the fastest turnaround times for Art Prints in the Fine Arts Printing industry. You'll be impressed with our fast production times, rush turnaround options, and available expedited shipping methods.