Regular price
Sale price
$ 24.99
Unit price
per
Sale
Sold out
The framable 8x10 flats are priced like full-page flyers and are suitable for portraits and artwork. Across the nation, many graphic designers, illustrators, photographers, and artists appreciate our low prices. Most people choose the "cover" option for 8x10 printing. We highly recommend reviewing the archival papers available with 8x10 art prints. Still, we keep this page alive for those requiring more economical solutions or lighter-weight material.
Heavier card options for 8x10 art prints are also available.
8x10 Flyer Features
Four budget-friendly papers for marketing
Paper and card options are available
We examine art closely before printing
Prints are full-bleed and full color
Archival paper is also available in 8x10 Art Prints.
How Long Does It Take To Start Printing?
25-250 Flyers - 1 day
500-1000 Flyers - 2 days
1250+ - 3 days
Digital Proofs Are Helpful
The "digital proof" option for 8x10 prints is no longer available since most art submitted to us meets specifications. Also, art files can be uploaded on this page and reviewed during the check-out process through a link. Staff designers carefully examine artwork for bleed, resolution, and size issues. If quality concerns arise that we cannot quickly overcome, a Printkeg artist will contact you or email a PDF proof demonstrating the issue. Our main goal is to ensure everyone is happy with the final prints. 
A PDF proof will alter turnaround by adding one extra day. Turnaround begins once art is approved for printing.
Sending Art for Custom 8x10 Flyers is Simple.
You can upload your 8x10 art to us from this page. If you experience technical difficulties, please email us the file with the order number as the subject. For larger files, free to use any third-party file storage company, such as Dropbox or HighTail.
Learn How to Protect the Quality of Your 8x10 Flyers
If the following specifications seem like Borg language to you, don't let that frighten you from ordering 8" x 10 flyers. Our experienced professionals examine all art before printing begins. If we cannot resolve our difficulties, one of our crew members will reach out.
Make sure to prepare your new file with 8.25" x 10.25" dimensions. Stay focused on keeping valuable text and images at least 0.25 inches away from all four edges. The pixel count for your project should be around 2475 x 3075.
Next, examine the quality settings to discern if you are working in a 300dpi space. Many modern-day graphics apps default to a meek 72dpi (Adobe Photoshop) or a modest 132dpi (Procreate). Boosting the quality setting to 300dpi or higher before you start working is the key to success.
We prefer PDF or JPG file formats. Although, our artists do accept other file types, such as PNG, EPS, and TIF. We do not open DOC, PUB, or PPT files. Almost all Microsoft products allow you to export your file as a PDF.
Try visualizing your digital art in CMYK color mode. We convert all 8" x 10" files to CMYK before printing. Many designers accidentally operate in RGB, but this color mode is for digital media. The CMYK conversion can lead to softer colors or various color shifts. If this is your first time printing with us, we recommend ordering a PDF proof.
You do not need to provide trim or crop marks on your art. Designers will sometimes leave this information present, and we will ask you to remove them before moving forward.
View Your Art in Our 8x10 Template
Download the 8" x 10" PDF template below to help you visualize bleed and trim areas. Please notice the file is 8.25" x 10.25" in size since it includes a trim area. You may submit art to us in portrait or landscape format.
More Information About Flyers
Our staff selected four specialty paper types for 8x10 printing to accommodate almost any print project. "Text" papers will feel like the inner pages of a magazine. "Cover" pages will feel similar to the actual cover of a magazine. For 8x10 printing, we recommend card options since most art is for resell or photographic.
Custom Print Reviews Are Positive
"I've ordered from Printkeg at least three times, and probably more like five or six times, and the orders have ALWAYS been quick and perfect. There's an old saying which I'm sure you're familiar with: "Fast, cheap or good - pick any two." But Printkeg seems to have proven that saying false - my orders, are fast, cheap (inexpensive) AND good." - David
Shipping Custom 8x10 Flyers Reliable and Safely
8x10 flyers are delicately shipped flat and shrink-wrapped between chipboard. They are then secured with bubble wrap and placed inside heavyweight mailing boxes. It is rare for prints to arrive damaged.
---
Get Serious With Your Custom 8x10 Prints.
Think About Moving to Archival Art Paper
This page, Custom 8x10 Flyers, offers a way to utilize lighter-weight papers. Although many artists use the card options from this page, we recommend the 8x10 Art Prints located in the "fine arts printing" collection. The manufacturer engineered the gloss, matte, and textured archival papers to capture drawings, paintings, and digital artwork details.
---
View full details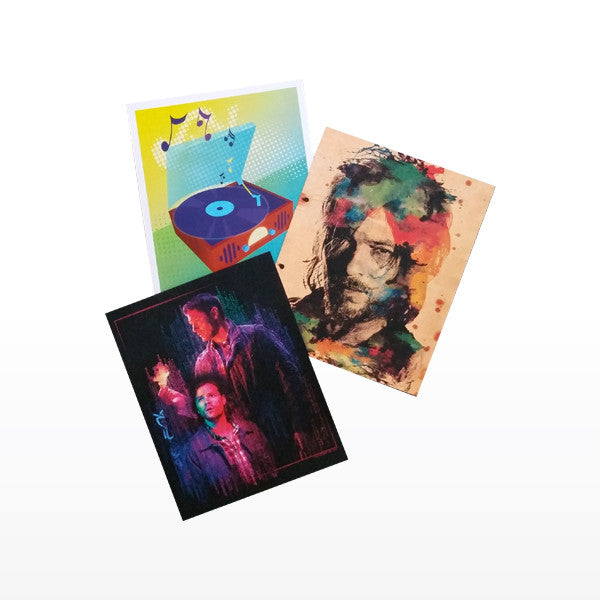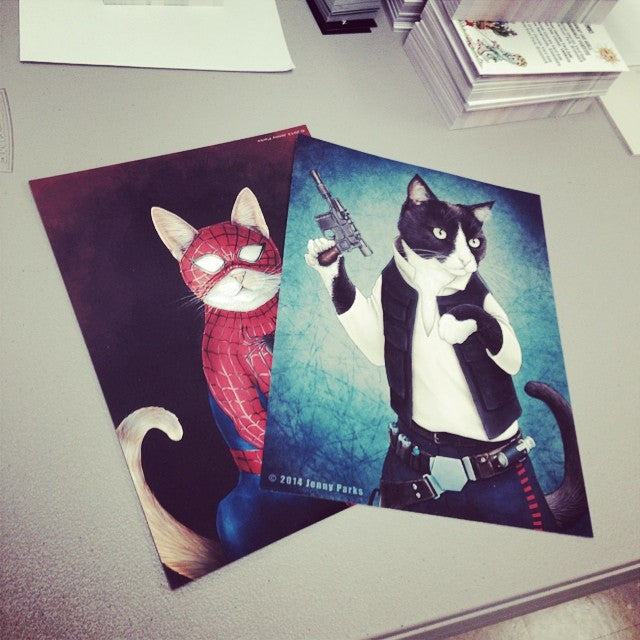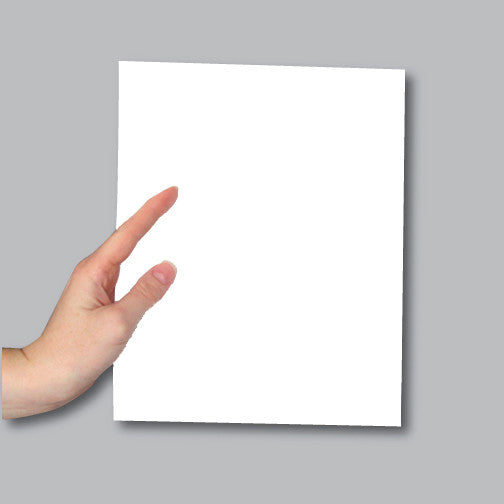 Economy Papers For Flyers
70# or 80# Text

Generally, people prefer thinner text papers as an affordable way to market events, light posters, leaflets, letterhead, advertisements, and any other situation where a budget is a primary concern.

70# or 80# Cover

Sometimes, handouts need to be thicker but not quite as durable as postcards. To grasp the thickness, think about the cover of a magazine. Sometimes, this stock can also provide welcome savings compared to other cover media.

Need Archival Media?

We offer heavier archival stocks for many sizes in our fine arts printing area. All media choices are intended for artists seeking long-lasting prints for retail environments. Thicker options also available in our postcards area.
Service Descriptions
Digital Proof

A Printkeg artist will prepare your artwork for printing and send you a visual in PDF format via email. This usually takes place within a few business hours. The image we will email you showcases trim location and CMYK colors in a limited fashion.

Make Graphic Work

This $9 option informs our staff to move forward with quick fixes and tackle any possible obstacles. Benefits may include reviewing file dimensions, tackling border issues, and reworking challenging "bleed" areas. There is one goal in mind: to ensure perfect Art Prints.

Edit My Design

This option is inexpensive for hiring us to modify your image file. Our designers edit or place elements into your file, like text, images, etc. The most common use of this service is changing event dates, removing signatures, and swapping photos.

Create My Art

We hire a trusted graphic designer with whom we've worked closely to help you create a new design from scratch. Most communication is via email. Most designs are finished in only a few business days.

Rush Turnaround

Rush Turnaround speeds up your order time by one day. That could mean same-day printing. You need your prints urgently, so we will try to make it happen. We sometimes expedite the shipping if we cannot honor same-day printing.

Free Art Inspections

A human artist reviews every single file before printing starts. If we notice any problems, a Printkeg representative will contact you via email with options how to move forward.
Why Should You Print With Us?
Guaranteed Happiness

Our primary goal is to make sure you are happy with your prints, The Printkeg Promise. This is our guarantee and commitment to serving artists across the nation. It doesn't help anyone if you purchase retail art you can't actually sell. We are here to ensure your success.

Dedicated to Artists

In our "About Us" area, you can view incredible photographs of the most recent Fine Arts Printing projects we've worked on. We geared our entire atmosphere, including the workforce and production facility, to serve retail artists first and foremost.

Fast Production Times

We contribute some of the fastest turnaround times for Art Prints in the Fine Arts Printing industry. You'll be impressed with our fast production times, rush turnaround options, and available expedited shipping methods.