Regular price
Sale price
$ 19.99
Unit price
per
Sale
Sold out
Many envelope colors are optional.
We invite you to print 5x7 flat cards as your holiday cards, greeting cards, party invites, birthday cards, wedding invitations, and maybe family photo cards. Single and double-sided flat cards are considered "full bleed" or "borderless," and a margin is only provided if present on original art. Artists, mothers, and graphic designers across the country take advantage of our amazingly low prices, rich print quality, and durable card selections each day.
Are you looking for 5x7 folded cards (greeting card style)?
5x7 Flat Card Print Features
Add envelopes with your cards.
Ten beautiful envelope colors are available.
Both sides of your card can be full-bleed and full-color
We inspect and adjust artwork to ensure proper setup.
You'll love our three durable 16pt card choices
Three Luxury Card Choices
Gloss Card (130# Cover/16pt) - This card stock is the absolute most premium and durable card stock we offer that also shines.
Matte Card (120# Cover/16pt) - Uncoated papers are better for writing on and classic note cards.

Textured Card (100# Cover/14pt) - Our textured card boasts a rigid feel resembling watercolor paper for artists.

Quick Turnaround Time for Cards
2 or 3 business days for all quantities.
Tips That May Improve The Print Quality of Your 5x7 Flat Cards
If the below tips seem Simlish to you, don't let that hinder you from ordering luxury 5" x 7" flat cards. Our art professionals examine all files before production begins. If we cannot solve any problems we find, one of our graphics veterans will reach out to you.
First, the measurements of your flat card file should be 5.25" x 7.25" rather than 5" x 7". This extra area is termed the "bleed area," the trimming area needed for edge-to-edge printing. Stay focused on keeping precious content at least 0.25 inches away from the edges. The pixel count should be at least 1575px x 2175px.
Secondly, when creating a design, make sure you are working in 300dpi conditions. Many graphic apps default to a web-rated 72dpi (Adobe Photoshop) or mid-quality 132dpi (Procreate). Increasing the quality setting to 300dpi or higher before starting is essential.
Thirdly, we support many files, but PDF or JPG file formats are our favorites. Nevertheless, our print company accepts other file types such as PNG and TIF.
Finally, try preparing your digital art in CMYK color mode. Many artists operate in RGB, a color mode intended for digital media. We will convert your art to CMYK color mode, which can sometimes lead to softened colors. If this is your first time printing, consider ordering a PDF proof to see possible color shifts.
Try This 5x7 Template
If you own graphics software like Adobe Suite, try to use the below PDF template to visualize your art for a better understanding of bleed and trim areas. Otherwise, try keeping your essential art components and text areas at least a quarter-inch away from the edges. It is that easy! 
Add a PDF Proof To Visualize Your 5x7 Flat Card
We briefly inspect all art files for quality purposes. If we spot problems (resolution, trim, dimensions, etc.), we will email you a PDF proof beforehand to ensure your final prints look glorious! If you would like a digital PDF proof before printing, please indicate this in the above order form.
A digital proof will delay an order by one business day.
You'll Love These Colorful Envelope Choices
Ten total A7 envelope color choices are available with our 5x7 flat cards: Ivory White, Natural, Dark Red, Gamma Green, Blast-Off Blue, Eclipse Black, Lift-off Lemon, Pulsar Pink, Gravity Grape, and Grocer Kraft. Envelopes may appear slightly darker/lighter in person than what you monitor may broadcast. 
Lift-off Lemon, Pulsar Pink, Gravity Grape, Gamma Green, Blast-Off Blue, and Dark Red Astrobright envelopes are only available for 5x7 card sizes. Colors may be substituted for the closest variant.

The Reviews for our Custom 5x7 Flat Cards Say It All
"You guys are great! Thank you for the excellent service. The prints of my painting came out lovely. ❤"- Christina
"Wow oh wow. The last 3 batches of 5x7 card print orders that I have made, turned out so beautiful. Thank you." - Olivia
"I love your customer service, the prints are very nice and ship in a timely manner. I've placed a few orders now and this site has become my go-to. Thanks for all the work you put into helping me make my small business a success!" - Bonnie
---
Other Personalized 5" x 7" Cards and Invitations You May Enjoy
We offer more choices for 5" x 7" Printing:
If you do not require envelopes but prefer to keep the luxurious 130# Gloss or 120# Matte Card stocks, then 5" x 7" Notes Cards may be a better fit.
The greeting card style of 5" x 7" Folded Cards is trending. These fabulous cards include a more comprehensive range of envelope colors, and they support four several card options.
You can also buy 5" x 7" Prints by ordering from our Postcards collection of custom printing. This selection is a lower-priced way to order art cards without envelopes.
5" x 7" is also a dimension possible for personalized magnets available in our promotional merchandise area.
---
View full details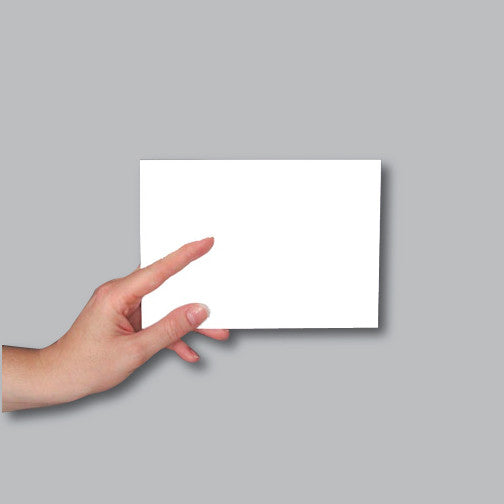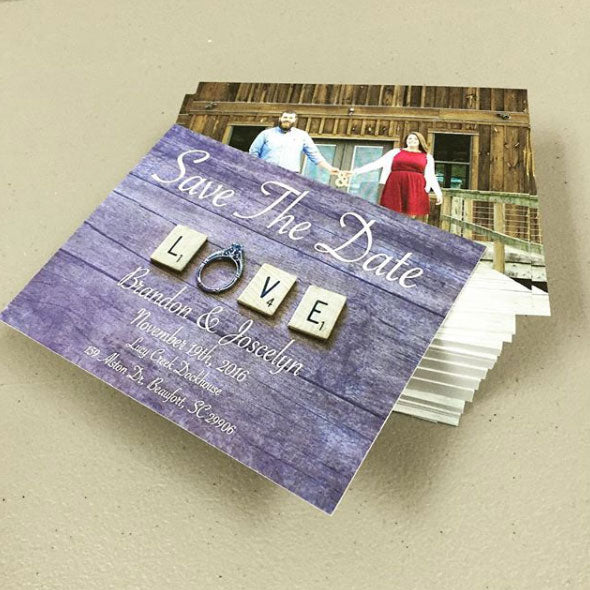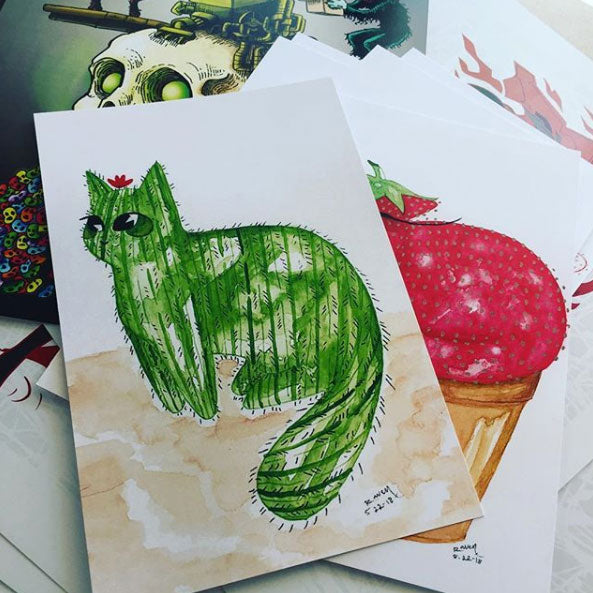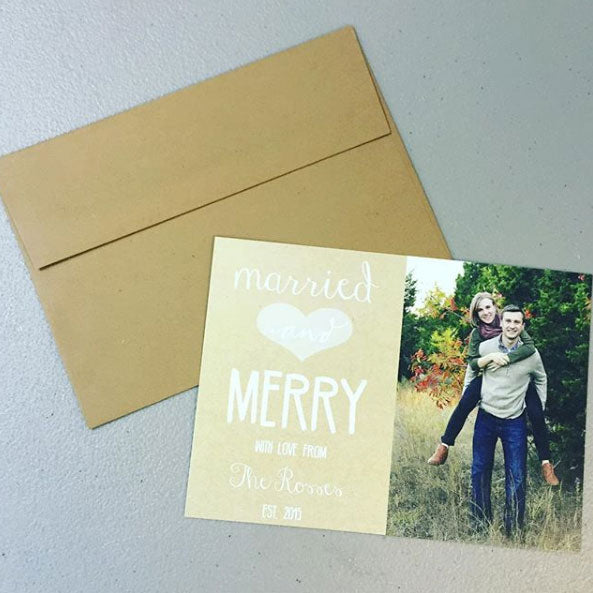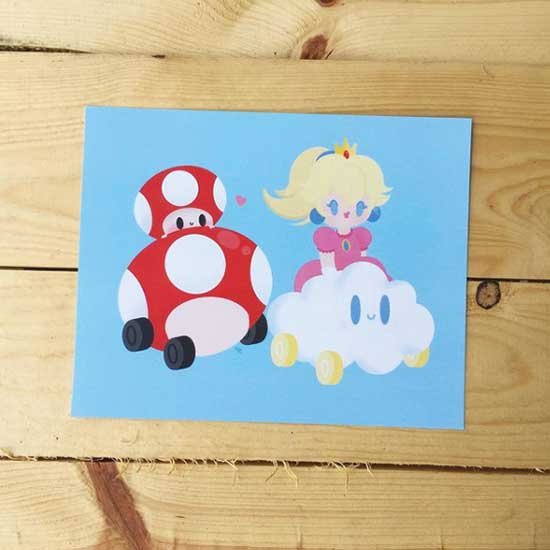 Elegant Cardstocks For Flat Cards
Luxury Gloss

Our custom flat cards host enhanced material far superior to postcards. The durable 130# gloss card displays energetic colors and a heavy hand.

Enhanced Matte

A luxurious card solution, the 120# matte is our most elegant solution for printing artwork on flat cards. The media is also shine-free and made for writing.

Lovely Texture

The felt fine art material for Flat Cards favors a watercolor-like paper texture to captivate the authenticity of physical art.
Service Descriptions
Digital Proof

A Printkeg artist will prepare your artwork for printing and send you a visual in PDF format via email. This usually takes place within a few business hours. The image we will email you showcases trim location and CMYK colors in a limited fashion.

Make Graphic Work

This $9 option informs our staff to move forward with quick fixes and tackle any possible obstacles. Benefits may include reviewing file dimensions, tackling border issues, and reworking challenging "bleed" areas. There is one goal in mind: to ensure perfect Art Prints.

Edit My Design

This option is inexpensive for hiring us to modify your image file. Our designers edit or place elements into your file, like text, images, etc. The most common use of this service is changing event dates, removing signatures, and swapping photos.

Create My Art

We hire a trusted graphic designer with whom we've worked closely to help you create a new design from scratch. Most communication is via email. Most designs are finished in only a few business days.

Rush Turnaround

Rush Turnaround speeds up your order time by one day. That could mean same-day printing. You need your prints urgently, so we will try to make it happen. We sometimes expedite the shipping if we cannot honor same-day printing.

Free Art Inspections

A human artist reviews every single file before printing starts. If we notice any problems, a Printkeg representative will contact you via email with options how to move forward.
Why Should You Print With Us?
Guaranteed Happiness

Our primary goal is to make sure you are happy with your prints, The Printkeg Promise. This is our guarantee and commitment to serving artists across the nation. It doesn't help anyone if you purchase retail art you can't actually sell. We are here to ensure your success.

Dedicated to Artists

In our "About Us" area, you can view incredible photographs of the most recent Fine Arts Printing projects we've worked on. We geared our entire atmosphere, including the workforce and production facility, to serve retail artists first and foremost.

Fast Production Times

We contribute some of the fastest turnaround times for Art Prints in the Fine Arts Printing industry. You'll be impressed with our fast production times, rush turnaround options, and available expedited shipping methods.